'

Gentle giant' makes big impact
Tonganoxie soph Erickson tough inside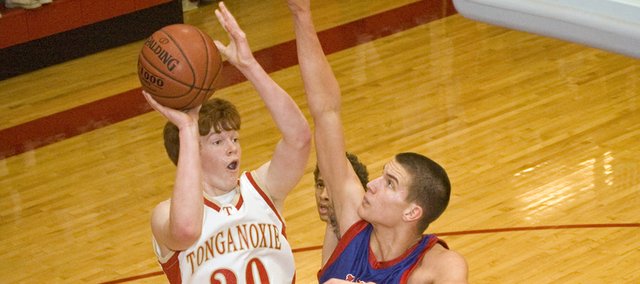 When one of Tonganoxie High's boys basketball players calls out the name "Clifford" during a game, don't bother perusing the Chieftains' roster to find out who he is addressing.
That's just what the guys call sophomore center Dane Erickson.
Senior forward Justin Jacobs christened the 6-foot-4 pivot with the nickname before Erickson's freshman season in honor of Clifford, The Big Red Dog, a popular children's book series.
"Dane's got red hair, and somehow that translated into Clifford," THS coach Shawn Phillips explained.
Let Jacobs elaborate: "He's real big and has red hair, and he's kind of like a gentle giant off the court. He's just a laid back kind of kid."
Erickson's easy-going personality shows by the mere fact he puts up with the nickname.
"It doesn't bother me," he said of the alias.
What the Chieftains like best about their big center, though, is that he is no dog on the court.
Jacobs said Erickson's chill demeanor isn't on display at game time, when the center shows he can bang inside.
"He definitely has a switch and he knows when to turn it on," Jacobs said.
Erickson said his on-court assertiveness is just second nature.
"Off the court, I'm not really that outgoing, I guess you could say. But when I play, I'm aggressive," he explained.
Phillips said Erickson, averaging 11.2 points and three rebounds for the Chieftains (2-3), has improved a lot from his freshman year, when he appeared — very briefly — in two varsity games.
"He had some of the skills to possibly play some last year, but being a freshman, just the physicalness of the varsity game was a lot more than the JV game or freshman-level game," Phillips said, adding the center's strength has improved greatly since then.
It was during his freshman year, Erickson said, that he learned what it takes to compete on the varsity level from another Tonganoxie redhead with a nickname, Austin Smith, whom the Chieftains called "Bill" in honor of former UCLA and NBA big man Bill Walton.
"I was guarding (Smith) almost all the time in practice last year and that definitely helped me get where I am now," Erickson said, "because he's really strong and it gave me a good idea of what I was going to come up against this year."
Erickson grabbed a season-high nine rebounds in the team's loss Dec. 8 at Eudora, but he is still working to become as dominant on the glass as Smith was last season.
"Rebounding is my main focus right now and I'm trying to be able to pick up extra offensive rebounds and stuff like that," Erickson said.
In the meantime, he's giving THS a valuable interior presence on the offensive end.
"Dane makes a big impact with his ability to score from the post," Phillips said. "He does a great job of finishing around the rim. For only being a sophomore, he does a really good job of using his body to seal people off and create angles for him to score."
Jacobs sees that post-up ability in practice, where he sometimes has to check Erickson.
"When he gets you sealed," Jacobs said, "it's hard to stop his post moves."
The big man's superior footwork and hands have made him tough for THS opponents to guard. His good touch around the rim allows him to score, even if he's on the run in transition.
But there are areas of his game Erickson said need improvement.
"I need to work on using my left," the right-handed pivot said. "I tend to go right, like all the time."
Phillips said that's a skill Erickson has worked on at practice, and once he gets confident with it, he'll use his left in live game action.
Additionally, Erickson said he might be more of an asset on the floor if he set up his teammates more often by kicking the ball out to open shooters.
"Usually when I get the ball, I want to put it up and shoot," Erickson admitted.
That assertive instinct aside, Phillips said it is the center's even-keeled demeanor that makes him effective for Tonganoxie.
"Dane, his mannerisms just lend to playing with some poise," the coach said. "He really doesn't get overly excited about things, he doesn't get overly down about things."
Not even a bad nickname.
Tonganoxie resumes its schedule at 7:30 p.m. Friday with a home matchup against Bishop Ward.