Out and about: Working amid the frigid weather
Winter season taking its toll on city, county as cold weather stays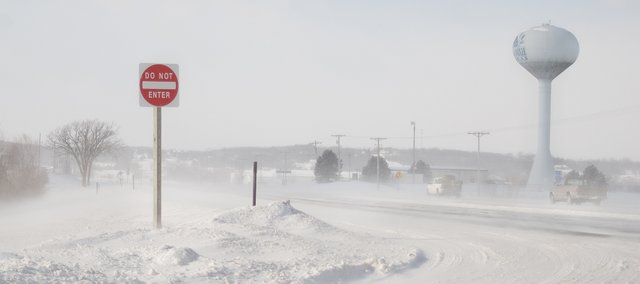 The recent snowstorms haven't just been an inconvenience for residents trying to move around in the county, it's also been an inconvenience to the county's pocket book.
Photo Gallery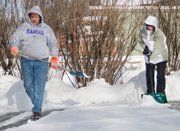 Winter Weather
Frigid temperatures still envelope the area, but bring a second round of heavy snow.
On Monday, Leavenworth County Public Works director Michael Spickelmier informed Leavenworth County Commissioners about what his crews have been doing to bring some normalcy to the county after the storms and how much it has cost.
He calculated that the public works department has expended more than half a million dollars in equipment usage, fuel, labor and materials to combat the snow.
Of the $521,000 total, $81,000 was spent on overtime. The public works had budgeted $50,000 for overtime in 2010.
"This is no time for alarm," he said. "We're not totally concerned, but it is something I want to have duly noted."
Currently Chuck Magaha, emergency management director, is working to get the snowstorms declared a federal disaster so some of the expended cost of the storms can be recouped.
Heather Morgan, county administrator, said jurisdictional problems with the National Weather Service have been holding up the decision on whether the storms could be declared a federal disaster.
In the meantime, Doug Smith, the county's road and bridge superintendent, and his crews have been working for weeks without much time off to clear the roads.
"Everybody has been working a lot," Smith told the commissioners. "We're hanging in there, but we're getting worn down."
He said that all of the roads in the county are open, but some may be reduced to one lane. He hopes to have all lane opens in a week, but he also said they are running out of room to put the snow.
"This is truly one for the record books," Spickelmier said.
The commissioners expressed their gratitude for the hard work put in by the public works crew.
"I've gotten phone calls and people have stopped me at church to say the county has done a remarkable job," Commissioner Clyde Graeber said. "Be proud and thank your people for what they have done. It is outstanding."
Spickelmier said he wants to begin working on a program to supplement their workforce with previous employees familiar with the equipment and the county to help during emergency situations like this.

Plowing ahead
Tonganoxie Public Works crews did what they could to keep the streets clean this past week, but Mother Nature wasn't making it easy for them.
Butch Rodgers, city superintendent, said Thursday they were fighting to keep the streets drivable, but the high winds were undoing their hard work.
"Every time we plow a street, we turn around and the drift blows in, piling the snow back up," Rodgers said. "We're clean… as clean as they can get right now. We are treating the roads every time they go out, but the temperatures are so cold nothing is going to work that well. It will take some sunshine and little warmer weather to clean things up more. Until then we just keep fighting it."
He said the city's salt supply remains at a good level for this snow season.
When the roads are extremely icy, crews use pure salt, but switch to a mix of salt and sand the rest of the time, he said.
Snow day
Students in Tonganoxie were in school just one day this past week. With a teacher inservice day on Jan. 4, Jan. 5 was the only day of classes as school was canceled the next three days because of inclement weather.
Superintendent Kyle Hayden said at Monday's Tonganoxie School Board meeting that the district has used four of its built-in snow days and has 3.9 remaining in the school year. The inclement weather also led to a water main break and then a busted pipe this past week at THS, but workers were able to tend to the issues and prevent substantial damage.
On snow patrol
Tonganoxie police officer Tom Wiles described combating the bitter cold with three words: "lots of layers."
Luckily for Wiles and other officers, a majority of time out and about during these cold winter days has been spent inside patrol cars.
"We really haven't had a lot of accident calls or slide-offs," Wiles said. "We do occasionally get the call of someone's furnace not working."