Cushing announces its first birth of the year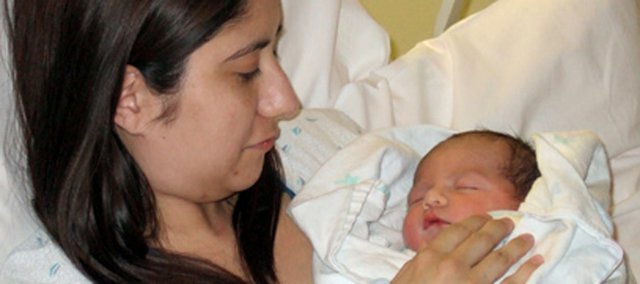 Leavenworth — Proud parents Chris Wood and Kristina Zamora of Leavenworth welcomed their son, Aiden Lee, into the world on Jan. 5, 2010. He was the first baby of the new year born at Cushing Memorial Hospital.
In addition to sharing his birthday with a sister, Aiden is welcomed to the family by five siblings who are excited and willing to help mom and dad take care of their new brother.

"They've already been telling us they want to help and asking what they can do," said Zamora.
Although Aiden wasn't Zamora's first child, she said she learned a lot during her stay.
"This is my sixth baby, and you would think I know pretty much everything there is about caring for an infant, but the staff here has amazed me with the new things they've taught me," she said.
The hospital recently completed a major renovation of the Maternity Unit, including upgrades to nursery and fetal monitoring equipment, and building complete labor, delivery and recovery rooms with private showers. Guided tours are available by appointment.
"That was one of the nicest things," Zamora said. "Touring the unit beforehand was great, and it really made us feel at ease leading up to the delivery."