Progress interrupted: Cancellations alter athletes' routines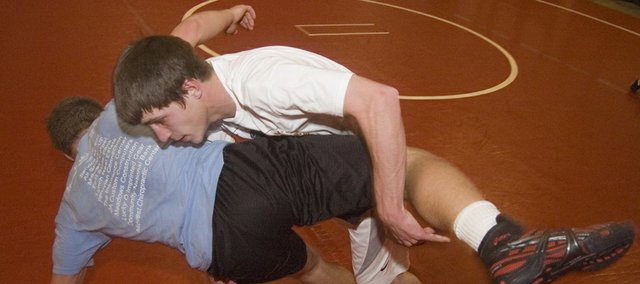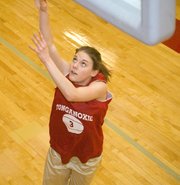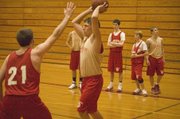 Canceled, canceled, canceled.
Loads of snow and frigid temperatures wreaked havoc on the Tonganoxie High athletics calendar this past week.
Not only was school off three days, but that meant no practices or events either — home basketball games against Bishop Ward were postponed and a wrestling tournament at Louisburg was called off.
But the worst part of it all for the Chieftains was the inability to maintain their usual physical regimens.
No practice meant no improvement. Basketball players couldn't hit the hardwood to run, pass and shoot and wrestlers couldn't get on the mat to grapple.
The severe weather left roads dangerous, which meant no team activities of any kind.
But with things back to normal this week, the question is: How much will the unexpected break set teams back?
Tonganoxie coaches said they were worried most about the fitness levels of their athletes.
"When you don't get to practice," said THS boys basketball coach Shawn Phillips, "you lose your conditioning a little bit."
Jeremy Goebel, Tonganoxie wrestling coach, said his team was just rounding back into shape with winter-break practices before cancellations crippled their options.
"Now we're kind of back at square one again," Goebel said.
Chieftains girls basketball coach Randy Kraft said it was an aggravating situation, especially considering the timing of it all.
"It's even more frustrating this time of the year for the fact that we haven't played in a month," Kraft said.
Because of the regular winter break and the unexpected snow days, the school's basketball teams had not played since Dec. 18 heading into Tuesday road games, and the wrestlers have been off since Dec. 19.
Some early-January struggles might be expected with the break in action, but Kraft said this past week's cancellations might compound the issue.
"I would think you would have to be at least a little bit rusty, just from not playing in so long," he said.
On the other hand, Phillips hopes the practices his team were able to get in before weather threw them a curveball will be beneficial.
"I think we'll be OK, just because we've had all Christmas break, we've had a long time to go over several things," the coach said.
But he admitted missing three days would likely impact the team's progression because it disrupted the season's flow.
"It's a little more difficult to maintain your focus and energy," Phillips said.
Of chief concern for Goebel, though, is something the basketball players don't have to fret about — making weight.
With no access to THS facilities for three straight days, wrestlers were left with few options.
"It's kind of rough," Goebel said.
The coach, though, expected his wrestlers to watch what they were eating — choosing healthy options instead of doughnuts and such — and do what they could to maintain their grappling weight.
"It comes back to being disciplined," Goebel said.
Austen Holloway, a 189-pound senior, said he worked out at home — push-ups, sit-ups, wall sits, jumping exercises, jump-roping — but would have much preferred more physical activity.
"It's nice to be out of school for snow and all that, but I'd like to be able to run," Holloway said. "But because of snow, I can't go to the track, I can't get to the school."
Cabin fever, too, was setting in after three days of nothing.
"Besides working out, I haven't done much," Holloway said, noting some television watching and Playstation 3 gaming was all he had done of late.
Lindsey Fatherley, a senior on the THS girls basketball team, said she had trouble killing time as well. One day, she helped her father move some wood piles.
"I've got to get out and do something physical," she said.
Although athletes haven't been able to practice, Fatherley said she was trying to stay mentally sharp by reviewing plays in her head.
She expected the absence from regular basketball activity would be the biggest obstacle after the break.
"Mentally we'll be all right," she said.
Despite all the bad feelings about the broken schedule, Kraft said there was one positive way to look at the situation.
"Everybody out there is in the same boat," he said, referring to cancellations throughout northeast Kansas.
And as Phillips pointed out, everybody wants to get into the gym, "but we want our kids to be safe."
Tonganoxie's basketball teams resume play on Tuesday at Turner in Kansas City, Kan.
The THS wrestling team is back in action Friday and Saturday at the Basehor-Linwood tournament.