5 Questions: Having a dream
JCCC

director reflects on King's legacy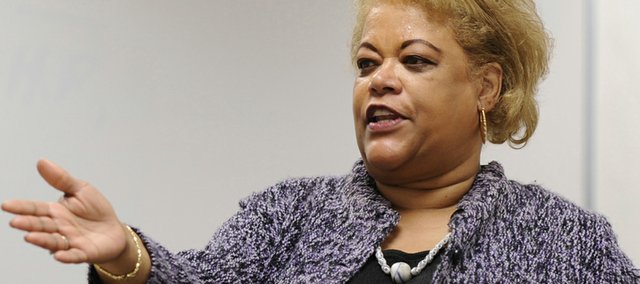 Carmaletta Williams, Ph.D., executive director for Diversity, Equity and Inclusion Office at Johnson County Community College, shares her thoughts as Martin Luther King Jr. Day approaches.
Q: Is Martin Luther King Jr.'s dream still alive?
A: Yes. Dr. King felt that injustice anywhere was injustice everywhere. The fact that we are fighting two wars, struggling to provide health care for all Americans and still working for social justice and equity are clear signs that the dream is still alive.
Q: What aspects of King's dream still have to be fulfilled?
A: Equal access and opportunity for all people are imperative. As long as children don't have the same access to educational, social and familial opportunities and adults don't have the same opportunities for equal access for professional and social inclusion, there are still elements of the dream that need to be fulfilled. We must remember that King's dream expanded past race. He wanted all people to have equal access to the American dream.
Q: Does the election of the first black president show how much progress has been made?
A: Of course. There were times when my now-grown children were little and I would tell them that they could be anything they wanted to be. They could even be president, but a little voice in the back of my head said, "But not of these United States." Today that little voice is silent. Every child in this country knows that he or she can, indeed, with hard work and opportunity, be anything they want.
Q: What are some of the goals of the Office of Diversity, Equity and Inclusion at JCCC?
A: Our goal, as stated on our Web site, jccc.edu/diversity, is to enrich learning by creating educational and professional experiences, which are diverse, integrated, safe, respectful and excellent in all dimensions.
Q: What do you think is important to remember on Martin Luther King Jr. Day?
A: I think it is important to remember the old adage of Malcolm X, who by the way was very respectful of the work of the Dr. King and the Southern Christian Leadership Conference: We may have come over here in different ships but we are in the same boat now. The problems of America are the problems of all of us. We have to work as a collective America regardless of our diversities — race/ethnicity, gender, social and political ideologies, histories and dreams.