Piper again bests
THS

boys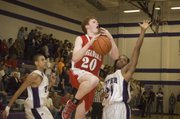 Kansas City, Kan. — It wasn't as bad as the last time the Chieftains played the Pirates, but the Tonganoxie High boys basketball team still came up on the losing end at Piper on Friday night.
When THS last played Piper — at Eudora on Dec. 10 — the Chieftains lost by 16 and were baffled by the Pirates' pressure.
Although ball movement was crisper and the offense more effective this time around, Tonganoxie still lost, 61-55.
The biggest difference — literally — for Tonganoxie (3-4) in the rematch was the presence of 6-foot-9 PHS sophomore center Dominique Wilson.
Not only did he score a team-high 11 points, but Wilson kept shots from getting above the rim and helped get Tonganoxie's most prominent post players in foul trouble (senior Justin Jacobs fouled out and Dane Erickson was whistled four times, all in the fourth quarter).
With the big man eating up space and swatting shots, the Chieftains showed their ability to score from long range, hitting eight three pointers — Dylan Scates made three, Jeremy Carlisle and Austin Vickers netted two apiece and Keaton Schaffer drained one.
Scates came off the bench to lead the team with 17 points and six rebounds.
Schaffer scored 14 points and Carlisle led THS with eight assists.
On Tuesday the Chieftains begin their quest for a Tonganoxie Invitational crown with a 7:30 home tip against Jeff West.
Score by quarters
THS 10 10 13 22 — 55
Piper 13 12 13 23 — 61
Tonganoxie scoring
Dane Erickson 4-10 0-0 8, Keaton Schaffer 5-12 3-4 14, Jeremy Carlisle 3-8 0-2 8, Austin Vickers 2-4 0-0 6, Justin Jacobs 1-4 0-0 2, Dylan Scates 7-10 0-2 17, Ben Williams 0-0 0-0 0, Colby Yates 0-0 0-0 0.