THS

girls suffer first

KVL

loss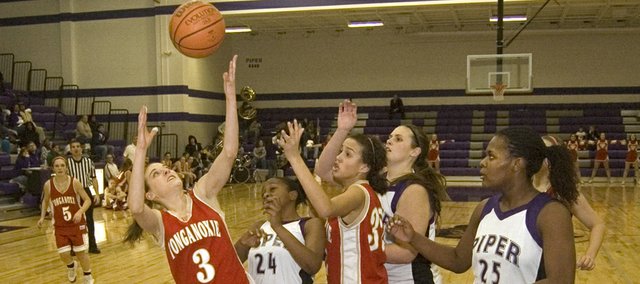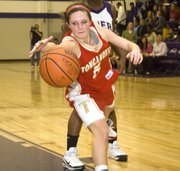 Kansas City, Kan. — The Tonganoxie High girls basketball team battled valiantly at Piper on Friday night, but never could grab hold of a lead in the second half and fell, 49-45.
THS had a 14-12 lead after a quarter and was tied with PHS at the half, but a 7-0 run by Piper (7-2) to start the third quarter gave the Pirates just enough separation to send the visiting Chieftains (3-4) home with a loss, the team's first in the Kaw Valley League.
In the fourth quarter, Tonganoxie got within a point on three occasions.
A free throw from senior Andie Jeannin with 5:12 to go made the score 36-35 and a freebie from freshman Hannah Kemp just more than a minute later cut Piper's lead to 37-36.
Later, freshman Jenny Whitledge, who scored 10 of her 12 points in the fourth quarter, put back an offensive rebound and THS trailed 39-38.
Jeannin also scored 12 points, with the help of three three-pointers, for Tonganoxie and passed out three assists.
Tavia Brown came off the bench to lead the team with eight rebounds and score six points.
The Chieftains will play host to Eudora at 6 p.m. on Tuesday in the first round of the Tonganoxie Invitational.
Score by quarters
THS 14 6 8 17 — 45
Piper 23 8 14 15 — 49
Tonganoxie scoring
Andie Jeannin 3-8 3-4 12, Lauren Hall 1-6 0-0 3, Danielle Miller 3-6 0-0 5, Jenny Whitledge 5-9 2-2 12, Hannah Kemp 2-5 1-2 6, Tavia Brown 1-4 4-4 6, Haley Smith 0-3 0-0 0, Lindsey Fatherley 0-0 0-0 0.