Chieftains have rough weekend at Bobcat Classic
Maus finishes 4th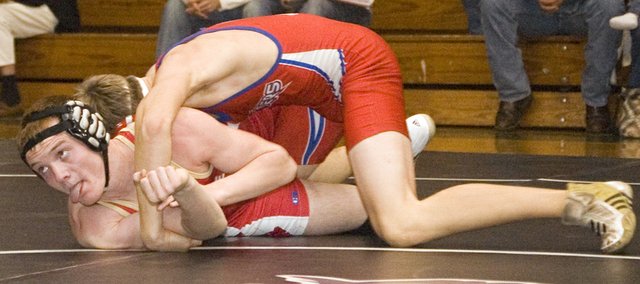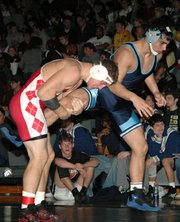 At a very deep Bobcat Classic, hosted by Basehor-Linwood High, this past Friday and Saturday, the Tonganoxie wrestling team found victories difficult to come by.
The Chieftains won eight of their 31 matches as THS finished 29th at the 32-team tournament, ahead of Paola, Lawrence-Free State and J.C. Harmon.
A 171-pound senior, Jeremie Maus had the most successful weekend among Tonganoxie grapplers, going 3-2 to finish fourth in his weight class.
Jonas Myers (215) went 2-2 at BLHS and Justin Crotty (140), Caleb Himpel (125) and Thomas Miller (160) won a match apiece.
It's possible Himpel could have added to Tonganoxie's win total, but he had to withdraw due to a groin injury.
Andale won the Bobcat Classic team title.
THS results
Weight class — wrestler, record at BLHS (overall record)
119 — Justin Soetaert, 0-2 (7-11)
125 — Caleb Himpel, 1-1 (12-4)
130 — Tyler Hand, 0-2 (3-7)
135 — Britton Price, 0-2 (9-8)
140 — Justin Crotty, 1-2 (4-7)
145 — Patrick Rachford, 0-2 (5-14)
152 — Ian McClellan, 0-2 (2-16)
160 — Thomas Miller, 1-2 (2-6)
171 — Jeremie Maus, 3-2, 4th (20-3)
189 — Austen Holloway, 0-2 (7-10)
215 — Jonas Myers, 2-2 (7-7)
285 — Ty Barton, 0-2 (4-13)
Season stat leaders
Takedowns — Jeremie Maus, 42
3 pt. near falls — Caleb Himpel, 4
2 pt. near falls — Caleb Himpel, 9
Reversals — Jeremie Maus, 9
Escapes — Justin Soetaert, 24
Pins — Jeremie Maus, 11
Wins — Jeremie Maus, 20