Defending champ
DHS

adjusts, wins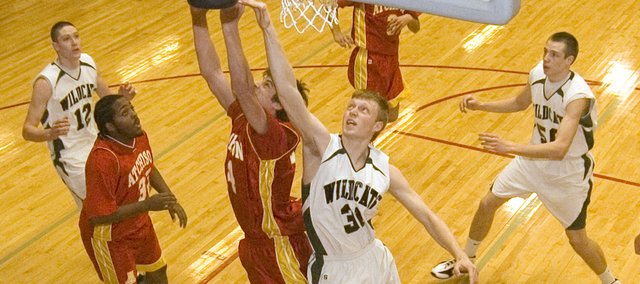 In the past week, the De Soto High boys basketball team lost two rotation players to injury.
Shorthanded, the Wildcats opened up the Tonganoxie Invitational on Monday night with a 57-45 victory over Atchison as they look to win the tournament for the second straight year.
Without sidelined juniors Jon Hastings and Mason Wedel, DHS coach Jim Bonar told his players they shouldn't be down in the dumps.
"Think about it as if they were in foul trouble, you guys wouldn't be feeling the same way then," Bonar told the Wildcats locker room before the win.
It took about a half and a lineup tweak for that message to sink in. De Soto (7-3) was tied with Atchison (1-5), a team the Wildcats had already defeated this season, at 27 after two quarters.
But DHS opened the second half on a 20-4 run that lasted more than a minute into the fourth quarter.
The defense picked up, Bonar said, due to the play of John Williams, who didn't play a second in the first half.
"We were just trying to find a lineup out there that looked like it clicked, and he happened to be the one guy," the coach said of Williams, "he didn't come out 'til the very end,"
Not only did the sophomore open the third with a steal and a layup, but he helped limit Atchison's star guard, Cezanne Burnes, to 12 points off 2-for-9 shooting.
From an offensive standpoint for DHS, Daniel Peterson scored seven of his 13 points in the third quarter and Joey Johnson put up nine of his 11 points in the fourth.
Brandon Philbrook scored nine points and grabbed a team-high 12 rebounds.
De Soto will play Friday at 4:30 p.m. in an invitational semifinal against Silver Lake.
Score by quarters
Atchison 15 12 4 14 — 45
De Soto 15 12 11 19 — 57
De Soto scoring: Daniel Peterson 6-12 1-3 13, Dylan Burford 0-0 4-6 4, Paul Stallbaumer 2-4 1-3 5, Brandon Philbrook 2-8 5-8 9, Aaron Nutterfield 4-5 0-0 8, Joey Johnson 4-6 2-2 11, Kyle McCulloch 2-3 0-1 5, John Williams 1-2 0-0 2.
Monday Tonganoxie Invitational scores
Boys
Silver Lake 40, Lansing 31
Girls
Chanute 47, De Soto 37
Silver Lake 36, Atchison 20