Chieftains enter invite hoping to reach finals
THS

girls have improved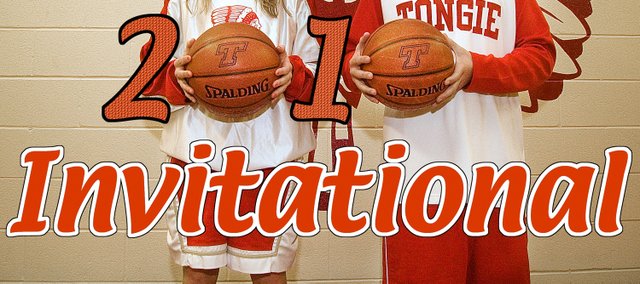 There are a couple clear-cut favorites to win the seventh installment of the Tonganoxie Invitational girls basketball tournament.
But at 3-4 — a record that doesn't put host Tonganoxie in that discussion — the Chieftains still think they have a shot to win their fourth invitational crown later this week.
Lansing (6-2) and Silver Lake (7-3) may be favored at the invitational, but Tonganoxie's losing record doesn't show the progress the team has made.
THS started the season 0-3, then won three in a row before a 49-45 loss Friday at Piper, in Kansas City, Kan.
But even that setback, coach Randy Kraft said, was one of his team's best efforts this season.
"All I see is us continuing to get better because tonight we made so many mental errors it was the difference in the game," Kraft said Friday, noting that Piper (7-2) was one of the best teams in the area.
Kraft said all THS needs is a little more consistency — via fewer turnovers and improved defensive communication — and it could have a chance to play in Saturday's championship game.
"They (the players) feel like they can win it, and that's what they want," Kraft said, adding that goal wasn't out of the question the way the team has played of late.
Senior THS guard Andie Jeannin said the team has newfound confidence and is playing at a different level than it was in early December.
"We're a completely different team," Jeannin said. "We were just trying to figure each other out, and now we have."
Tonganoxie senior guard Lauren Hall said the team is now more familiar with plays and each other. Most of the mix-ups that cost them earlier in the season have disappeared.
Plus, Hall said, there is now a real sense of togetherness for the Chieftains.
"I feel like we're more of a team than we have been and that's helping us to recognize who to get the ball to, when they need to get the ball," she said. "The whole concept of a team is really helping."
That sets THS up nicely entering the Tonganoxie Invitational, where the Chieftains hope to contend for the title.
"That's actually been our goal for the season," Hall said of capturing the invite trophy, the golden ball. "We really want to win that."
Tonganoxie won the tournament crown in 2005, 2007 and 2008. Jeannin said THS feels like it has a chance to be champion once again.
The team's starting lineup — Jeannin, Hall, Danielle Miller, Hannah Kemp and Jenny Whitledge — and its key reserves — Tavia Brown, Haley Smith and Lindsey Fatherley — have come a long way.
"We know what we're capable of, so I'm really excited," Jeannin said.
Kraft said THS must "play consistent" in order to win three games in five days and finish first.
"It could happen," the coach said, "because every game we're getting better."
Tonganoxie plays a first-round game against Eudora on Tuesday at 6 p.m.
The contest is the Channel 6 High School Game of the Week and can be seen at 10:30 p.m. Tuesday and Friday nights, as well as 11 a.m. Saturday morning.