Disappointing '09 title loss still resonates for
THS
Tonganoxie boys motivated by 22-point defeat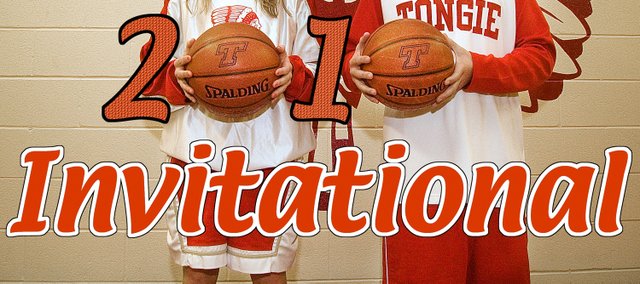 With 51 years of history, the Tonganoxie Invitational is bursting with tradition.
However, there is a disturbing recent trend at the basketball tournament the Chieftain boys would like to halt from becoming part of the lore.
As junior point guard Jeremy Carlisle put it: "The Tongie invitational is something our team hasn't been known for winning in a while."
Indeed, 15 straight tournaments have gone by without THS earning the crown — Tonganoxie last won its home tournament in 1994, when Shawn Phillips was suiting up for the Chieftains in his senior season.
Now in his second year as THS coach, Phillips said his team doesn't have to look too far back in time for some invitation motivation.
In the 2009 invitational final, Tonganoxie lost in embarrassing fashion, 52-30, to De Soto.
Four players on this year's team played in that game — Carlisle, Justin Jacobs, Keaton Schaffer and Dylan Scates. Schaffer scored just five points and the other three were held scoreless.
"The guys that played in the game last year, they still talk about how disappointing that effort was," Phillips said, "so should we be fortunate enough to get there again, I think we'll see a different level of intensity."
THS (3-4) may have a losing record, but Phillips said he expects the invitational to be wide open.
"The tournament field is pretty even, overall. I think you could see any number of teams come out on top," the coach said, noting De Soto (7-3) and Eudora (5-3) are possible favorites.
"Our guys are really excited. I think they feel confident that they can play with anybody in the tournament. If we play well, hopefully we can beat anybody in the tournament."
Carlisle said the team has shown a lot of improvement in recent weeks, citing the scores from the Chieftains' two games against Piper this season.
In December, THS played Piper at Eudora's tournament and lost by 16. This past Friday, the Chieftains lost 61-55 in the Pirates' home gym, in Kansas City, Kan.
Tonganoxie's point guard said the team is rounding into shape just in time for the home tournament.
"This is about the time of the year that we started picking things up last year," Carlisle recalled.
The Chieftains were 4-3 heading into the invitational last season, then won four of their next five. They would like to see a similar — or better — swing this year with the help of three games in their home gym, a place in which THS has only played once in its first seven contests.
Schaffer said the players feel positive about competing for the invite crown because of their improving depth.
"Other players are definitely stepping up. Austin Vickers and Dylan Scates have definitely stepped up," Schaffer said, adding he loves to see them knocking down three-pointers.
As usual, Phillips preached defense as the key to his team's success this week.
"We've got to defend, and I think we've made some strides on defense, and if you can defend, you have a chance to win most nights," the coach said.
Schaffer said he is looking forward to helping redeem the program's invitational reputation.
"Last year we took second," he said, "now I want to win it."
Tonganoxie opens the tournament against Jeff West on Tuesday at 7:30 p.m.