THS

boys advance to semis
Rematch with Eudora up next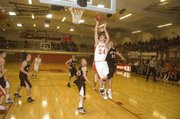 The Chieftains wanted no part of the consolation bracket at their home tournament and avoided that depressing scenario with a 60-50 victory over Jeff West on Tuesday night.
The Tonganoxie High boys secured a comfortable, double-digit lead early thanks to its first-half defense.
THS (4-4) held JWHS (3-7) to 19 points off 39 percent shooting in a Tonganoxie Invitational first-round game.
"That's a pretty good half," said Chieftains coach Shawn Phillips. "We didn't do so well in the second half. We've got to improve that if we're gonna advance farther into the tournament."
In the second half, the Tigers scored 31 and went 12-for-24 from the field, but Tonganoxie kept them at bay by going 10-for-12 at the free-throw line in the fourth quarter.
Junior point guard Jeremy Carlisle was 4-for-4, junior forward Austin Vickers went 2-for-2, senior forward Keaton Schaffer made both of his attempts and sophomore center Dane Erickson converted two of four tries.
"We had the right people going to the line," Phillips said. "They buckled down, made their free throws… we were due to have a game where we shot them pretty well. We're fortunate to have that be tonight."
Tonganoxie's leading scorer, Schaffer turned in one of his better performances to date against Jeff West, going for game-highs of 24 points, 13 rebounds and four assists.
The versatile forward curled a lot of screens looking for layups instead of jumpers.
"He does a good job of getting the ball into the paint," Phillips said.
Erickson also reached double digits with 10 points, and secured nine rebounds.
The win put THS in the invitational semifinals, where the Chieftains will meet up with Eudora on Friday night at 7:30 p.m.
The two teams met on Dec. 8 in Eudora and the Cardinals were victorious, 55-51.
Phillips thinks the Chieftains will do a better job the second time around against EHS because they know what to expect.
"We don't feel like we gave our best effort in that last game, so we're anxious to have another opportunity," the coach said.
Score by quarters
JWHS 11 8 12 19 — 50
THS 14 17 13 16 — 60
Tonganoxie scoring
Dane Erickson 4-9 2-4 10, Keaton Schaffer 9-17 6-7 24, Jeremy Carlisle 2-7 4-4 8, Austin Vickers 1-5 2-2 4, Justin Jacobs 3-7 0-1 6, Dylan Scates 2-4 0-0 5, Ben Williams 0-1 1-2 1, Brady Waldeier 1-2 0-0 2.
Tuesday invitational scores
Boys
Eudora 60, Don Bosco 32
Girls
Lansing 63, Jeff West 41
Tonganoxie 48, Eudora 40