Chamber names top citizens, recognizes Team Tongie's efforts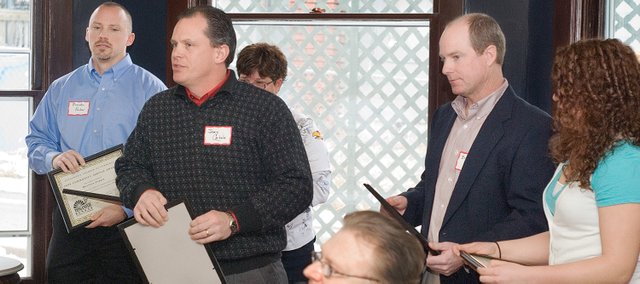 J.W. Evans said Ken Mark, this year's winner of the Tonganoxie Chamber of Commerce citizen of the year award, has something in common with Mark's grandfather and father — leadership.
"It's in his blood," Evans said about the former 12-year chairman of the Tonganoxie Recreation Commission.
The chamber honored Mark, along with other community leaders and volunteers, during its annual luncheon meeting Tuesday.
"Kenny is an original," Evans said. "He was born here. He was raised here and he is visible. He is up and down the street, he's at the post office. He's everywhere."
Evans paid tribute to some of Mark's noticeable accomplishments during his time on the recreation commission board, such as creating Chieftain Park, and Mark's recent mission trip to Guatemala.

Mark graciously accepted the award and wanted to share it with the many other people in the city who dedicate themselves to improving it.
He used the adage of a chicken being involved in breakfast, but a pig was committed to the meal.
"As I look around the audience — I want to be careful how I say this — I see a lot of pigs," Mark said jokingly. "I see people that are not just involved in our community, but those who are committed to making it a better place."
The chamber also recognized three Tonganoxie High School administrators and one high school senior for their community service work this year.
Lindsey Fatherley, senior, Brandon Parker, activities director, Brent Smith, assistant principal, and Jamie Carlisle, principal, were honored for their work on Team Tongie.
Diane Bretthauer, president of Team Tongie, said since the organization started last year to support one student who was diagnosed with cancer, it has raised more than $18,000 and has helped 28 families in the community.
"I just don't know what to say about these four individuals other than I have been honored and blessed to work side by side with them," she said. "It is such a blessing to our community that we have such a young individual who puts in the hours that this young lady does and these three gentleman, who have committed their time and energy to all of the families in Tonganoxie High School."
Carlisle did not want Bretthauer's work and the work done by the community to be forgotten. He said that it was easy for the four of them to lead Team Tongie where there were so many supportive community members.
"This is not about us," he said. "This is about working with you and our community members to do things for those who are in need."