Chieftains top Cardinals 48-40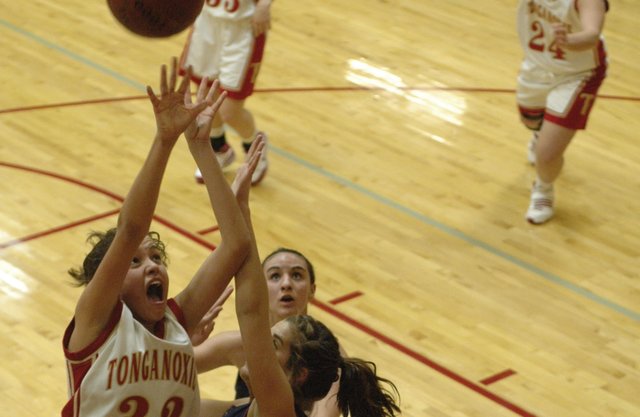 Tonganoxie High's Andie Jeannin and Tavia Brown scored 10 points apiece and Lauren Hall scored nine points on three three-pointers to help lead the Tonganoxie girls to a 48-40 victory over Eudora Tuesday in the opening round of the Tonganoxie Invitational.
The Chieftains led 12-10 at the end of the first quarter, and opened the second quarter with a 9-0 run on baskets by Jeannin, Haley Smith and Jeanny Whitledge.
"We played well in the second quarter, built on our lead," THS coach Randy Kraft said. "The first quarter was kind of feeling out, but we missed a couple shots early there. I think the second quarter we got out and pushed the ball more, and they got a little tired and were able to move the ball a little better against their defense."
Tonganoxie would later build its lead to 28-14 late in the second quarter.
"You know what the first thing we talked about was?" said EHS coach Todd Cossman. "Start the quarter well. And we didn't."
Free throws by Eudora's Hannah Kouri and Evan Folks cut the lead to 28-18 at the half.
Tonganoxie, though, increased its lead to 34-22 with five minutes to play in the third quarter.
To start the fourth quarter, Eudora's Jennifer Bowser hit her second shot of the half to cut the lead to seven. Then Tonganoxie sharpshooter Hall swished a three from the right wing, and on the next possession she hit a three from the left wing that pushed Tonganoxie's lead to 42-39 with 6:56 to play.
"Hall really hurt us," Cossman said. "She's a good shooter and we knew that coming into the game."
But then the Cardinals put up another rally. Folks answered Hall's second three with a three of her own, and Sydney Schmille's field goal inside cut the lead to eight again at 42-34 with 3:20 to play. Folks later added two free throws and Bowser scored inside again to cut the lead to 43-38 with 1:14 to play. But Jeannin and Whitledge combined to go 5-for-6 from the stripe late to secure the THS victory.

Eudora had a season low 15 turnovers in the game and forced Tonganoxie into 22 turnovers. But Tonganoxie shot 19-of-38 from the floor and held Eudora to 15-of-48 shooting. Eudora (3-6) will play Atchison at 6 p.m. Thursday. Tonganoxie (4-4) will play Silver Lake at 6 p.m. Friday in the tourney semifinals.
Score by quarters
1 2 3 4 F
Eudora 10 8 9 13 40
Tonganoxie 12 16 8 12 48
Scoring:
Eudora - Jennifer Bowser 10, Evan Folks 10, Sydney Schmille 11, Molly Brunton 2, Shea Lounsbury 4, Hannah Kouri 3.
Tonganoxie - Haley Smith 6, Andie Jeannin 10, Lauren Hall 9, Danielle Miller 6, Jeanny Whitledge 5, Tavia Brown 10, Hannah Kemp 2.