Playing above the rim
EHS

boys dunk Don Bosco 60-32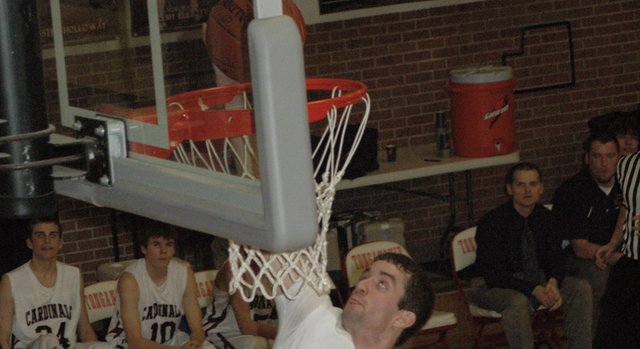 Photo Gallery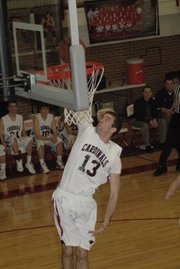 EHS boys vs. Don Bosco
Justin Ballock's eyes lit up when he saw the wide open lane beneath the Eudora basket on the inbounds play in the first quarter.
The same was true for backcourt mate Evan Cleveland, whose job was to loft the ball at the rim so Ballock could throw down a dunk.
Cleveland threw a perfect pass, Ballock threw down one vicious dunk, and the Cardinals cruised past Don Bosco, 60-32, Tuesday in the opening round of the Tonganoxie Invitational.
The lob is a designed play straight from Eudora coach Kyle Deterding's playbook, and the Cardinals have run it successfully several times this season. In fact, Ballock and Cleveland have executed the play so many times, now they just look at each other and know what to do without instruction from the sideline.
"We have an inbounds play, and he called it," Ballock said. "I saw it was going to be open, and I was just ready for it."
At 5-foot-8, Cleveland's point of view of the dunk was a little obscured because he had to throw the ball over a player who was guarding the inbounds pass and stood six inches taller than himself.
"I have trust in him that he's going to go up and get it," Cleveland said of Ballock. "So I throw it, and he comes down with it."
The dunk was Ballock's only field goal of the game, as the Cardinals' leading scorer went 1-for-10 from the floor and was just 3-for-6 from the free-throw line. Ballock, though, found other ways to contribute in the lopsided victory. He pulled down nine rebounds, nabbed five steals and dished out three assists.
"I'm not worried about my shot," said Ballock, who leads the team in scoring at 17 points per game. "It'll come. We got the win."
With six minutes to play in the fourth quarter, and his team up 45-20, Ballock could have had another dunk when he streaked down the left side of the court after stealing the ball at the timeline.
With Drew Noble filling the right lane on the 2-on-1 fastbreak, Ballock could have went high over the top for another slam. But as the defender moved toward him, Ballock threw an unselfish bounce pass in the lane to Noble who put it in off the glass for two of his six points.
"I was driving down, and I could see the guy was coming towards me," Ballock said. "And I could see Drew kind of go behind him, so I just tried to pass it to him real fast. I thought he was going to dunk it, but he didn't."
While the 6-foot-3 Ballock and 6-foot-4 Noble nodded to one another after the play, Deterding yelled out from the sideline, "Nice pass, Justin!"
While Ballock and the Cardinals struggled offensively and made just 24-of-68 shots from the field, the team's tough defense forced Don Bosco into 25 turnovers. And the Cardinals held the Wolves to 14-of-71 shooting.
Eudora led 8-2 at the end of the first quarter, but outscored Don Bosco 22-5 in the second quarter to put the game out of reach. Conner Scott scored 16 points off the bench and had a perfect shooting night.
Scott went 5-for-5 from the floor, two of them threes. Scott also was a perfect 4-for-4 from the stripe. Fellow reserves Hawley Montgomery added five points and five boards and Matt Jump had three assists and no turnovers.
"Those three were great," Deterding said. "They did a really good job. That was one of the pleasant things that come out of this game is that those three guys coming off the bench really did a good job. Defensively, those were probably three of our four most intense guys, and they were in there trying to rebound. Those three did a lot of good things."
Despite the blowout win, Deterding said his team would have to play even better in the semifinal game Friday if it hoped to advance to the tourney championship game on Saturday.
"Whoever we play Friday, we'll need to play much better to have a chance, which we can," Deterding said. "We just need to do it."
Eudora (6-3) will play Tonganoxie (4-4) at 7:30 p.m. Friday in the tournament semifinal.
Score by quarters
1 2 3 4 F
Don Bosco 2 5 11 14 32
Eudora 8 22 10 20 60
Scoring:
Don Bosco – Brandon Lewis 2, Tevin Grizwold 2, Ralph Hooker 9, Rodney Andrew 4, Jai Scott 13, Lorenzo Boston 2.
Eudora – Coulter Vestal 4, Conner Scott 16, Evan Cleveland 8, Justin Ballock 5, Brian Katzfey 10, Joel Lauer 4, Drew Noble 6, Hawley Montgomery 5, Derek Webb 2.