Hustle plays key
DHS

girls win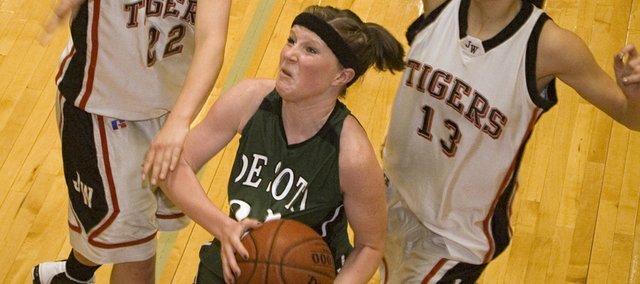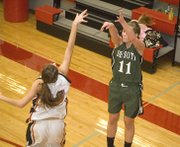 The De Soto High girls basketball team struggled to convert fourth-quarter free throws but made hustle plays in the final 30 seconds to hang on for a 61-56 win over Jeff West Thursday afternoon at the Tonganoxie Invitational.
The Wildcats made just seven of their 15 free-throw attempts in the final period but a pair of steals and an offensive rebound with the game in the balance were the difference.
Jeff West (3-7) trailed by just three in the final minute but never got a chance to tie things up thanks to a steal by senior De Soto forward Tami Crow with 28 seconds left.
Although the Wildcats' Kelsey Fisher missed the front end of the ensuing one-and-one and JWHS corralled the defensive rebound, DHS junior guard Shelby Petty swiped the ball away with 24 ticks left and went to the charity stripe.
Petty missed both her free throws but chased down the second for an offensive board, returned to the line and gave De Soto (5-5) a two-possession lead.
Petty led all scorers with 28 points, powered by six three-pointers.
She was nearly unstoppable in the second quarter, when she opened the period with two treys, sank a pair of free throws with 5:34 to go and got a steal and a layup in the waning seconds of the half.
The victory put De Soto in the fifth-place game at the Tonganoxie Invitational, which will be played Saturday morning at 10 a.m.
Score by quarters
De Soto 16 17 15 13 — 61
Jeff West 10 16 9 21 — 56
De Soto scoring
Tami Crow 0-8 1-2 1, Shelbi Petty 8-18 6-12 28, Kelsey Fisher 2-8 2-3 6, 4-8 0-0 8, 3-5 1-2 7, Ashley Gorman 4-9 0-0 8, Taylor Saucerman 1-2 1-2 3, Jesse Spencer 0-1 0-1 0.
Tonganoxie Invitational Thursday scores
Girls
Eudora 58, Atchison 33
Boys
Lansing 67, Atchison 55
Jeff West 71, Don Bosco 57