Loss puts
THS

girls in 3rd-place game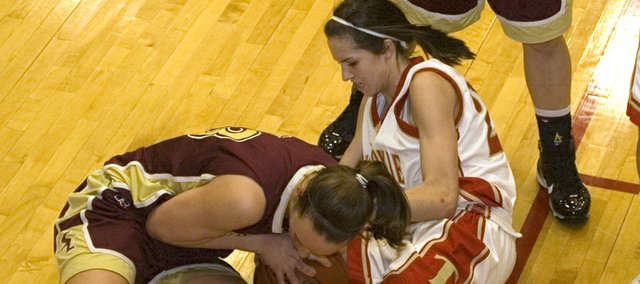 An early lack of offense cost the Chieftains girls basketball team on Friday night as it was knocked out of title contention at the Tonganoxie Invitational with a 31-21 loss to Silver Lake.
Tonganoxie High (4-5) could barely find shot attempts, let alone points in a six-point first half.
The Chieftains scored just two points in the first quarter and didn't get their first field goal of the game until freshman Jenny Whitledge hit a jumper with 2:57 to go in the second quarter.
THS coach Randy Kraft had a serious conversation with his players at the half.
"We talked a lot about pride," Kraft said. "I think six points in a half, they had to be embarrassed — I hope they were."
The talk inspired a better performance in the third quarter as THS opened the second half with a 10-3 run during which freshman Hannah Kemp went 5-for-6 from the foul line.
In the second half Silver Lake (8-3) played the same defense that stymied the Chieftains early, but Kraft said his players did what they were supposed to after the break: "penetrate a lot, draw fouls; if you're gonna get up in us, we're gonna make you pay."
SLHS stalled to open the fourth quarter, holding the ball for the first 2:23, negating any chances of Tonganoxie coming back.
The loss places the host Chieftains in the third-place game at the invitational Saturday at 1 p.m.
Kraft said the team should use its poor Friday showing as motivation.
"Hopefully we'll use this first half," the coach said. "If that doesn't inspire you to get out there and bust it hard every time, I don't know what would."
The Chieftains play Chanute for third place.
Silver Lake and Lansing will play for the championship at 5 p.m.
Score by quarters
SLHS 8 13 6 4 — 31
THS 2 4 11 4 — 21
Tonganoxie scoring
Andie Jeannin 1-2 0-0 2, Lauren Hall 0-5 0-0 0, Danielle Miller 1-2 2-4 4, Jenny Whitledge 3-10 0-0 6, Hannah Kemp 0-2 6-8 6, Haley Smith 0-2 0-0 0, Tavia Brown 0-0 3-6 3.