Last-second shot beats
THS

girls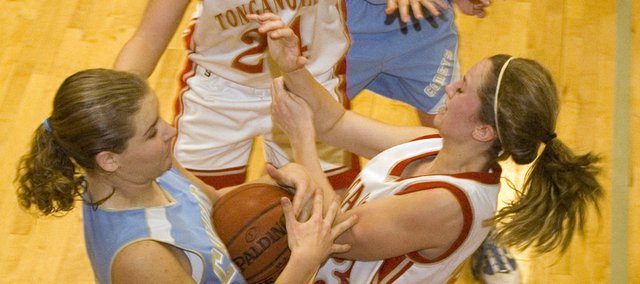 Photo Gallery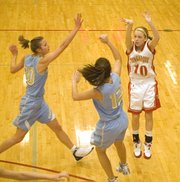 THS girls finish 4th at Tonganoxie Invitational
The Tonganoxie High girls basketball team lost 50-49 to Chanute in the third-place game of the Tonganoxie Invitational on Saturday.
Chanute High senior Ali Aylward broke the Chieftains' hearts with an off-balance, baseline jumper as time expired in the third-place game of the Tonganoxie Invitational on Saturday.
Just seconds after Tonganoxie High freshman Jenny Whitledge gave THS its first lead of the game, Aylward's clutch shot put the Blue Comets in the win column with a 50-49 victory.
The Chieftains (4-6) trailed the first 31:50 of the game but took the lead, briefly, when Whitledge scored a layup off a sideline out-of-bounds play with 10 seconds left, moments after senior THS guard Lauren Hall's defense forced a Chanute turnover in the backcourt.
THS coach Randy Kraft gave Aylward and Chanute (7-4) credit for earning the victory.
Besides, he didn't have to look far to see the difference in the game: Tonganoxie made just one of its 13 second-half free throws.
The Chieftains missed their first 12 free-throw attempts after halftime before Hall hit one with 14 seconds remaining to cut Chanute's lead to 48-47.
"That's tough," Kraft said, noting the team had been shooting well from the line — 65 to 70 percent the past few games — until going 3-for-17 (18 percent) on Saturday.
Whitledge recorded a double-double in the loss — 15 points, 10 rebounds.
Hall added 12 points while hitting three of five three-pointers.
Hannah Kemp led the Chieftains with five assists.
THS plays host to De Soto on Tuesday at 6 p.m.
Score by quarters
CHS 18 16 2 14 — 50
THS 9 12 12 16 — 49
Tonganoxie scoring
Andie Jeannin 2-5 0-0 5, Lauren Hall 4-7 1-3 12, Danielle Miller 0-2 0-0 0, Jenny Whitledge 7-11 1-10 15, Hannah Kemp 3-11 0-0 6, Haley Smith 2-6 0-0 4, Lindsey Fatherley 3-3 1-4 7, Tavia Brown 0-1 0-0 0.