Tonganoxie loses title game in
OT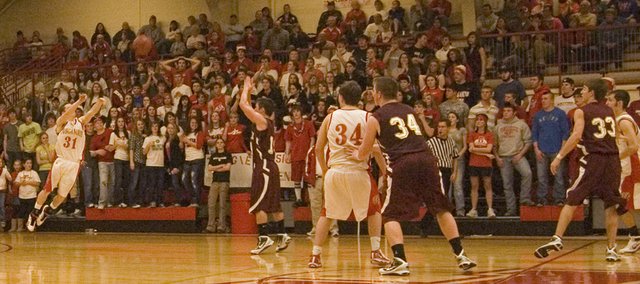 For four quarters, the Chieftains boys basketball team never trailed Silver Lake in the Tonganoxie Invitational championship game Saturday night.
But that wasn't enough to get Tonganoxie High its first invitational title since 1994 as the Eagles won in overtime, 46-43.
The Chieftains (5-5) led 31-18 at the break, but only made three of 12 second-half shot attempts.
THS coach Shawn Phillips said offensive shot selection against the packed-in zone of Silver Lake (6-4) cost his team a victory.
"We shot too many jump shots early, they scored from two feet and all of the sudden the lead starts to come down and we got tight," Phillips said. "Then points were just hard to come by."
The Eagles won the game at the free-throw line in the final seconds of overtime.
First Keenan Kruger hit one of two with 1.9 seconds to go to put SLHS up, 44-43, then THS senior forward Justin Jacobs was called for a foul while going for the ball on Tonganoxie's ensuing in-bound play and SLHS junior Casey Smith hit both of his attempts with 1.3 seconds remaining.
In desperation mode, after a timeout, the Chieftains got the ball to point guard Jeremy Carlisle, whose last-second heave hit part of the gymnasium's ceiling and fell harmlessly to the floor.
"It was just too high," Carlisle said. "It felt good coming out."
Senior THS forward Keaton Schaffer led the home team with 17 points and was named the tournament's MVP, but he was called for his fifth foul with 33 seconds left in overtime.
Tonganoxie turned the basketball over 15 times and allowed 21 offensive rebounds. Silver Lake had 11 points off turnovers and 10 second-chance points.
The Chieftains are back in action Tuesday night at 7:30 p.m., when they play host to De Soto.
Score by quarters
SLHS 6 12 13 8 7 — 46
THS 12 19 5 3 4 — 43
Tonganoxie scoring
Dane Erickson 3-7 3-4 9, Keaton Schaffer 7-13 2-3 17, Jeremy Carlisle 1-5 0-1 2, Austin Vickers 2-4 2-2 8, Justin Jacobs 1-1 0-0 2, Colby Yates 1-1 0-0 2, Dylan Scates 1-5 0-0 3.
Tonganoxie Invitational Saturday results
Girls
Championship — Lansing 50, Silver Lake 33
Third place — Chanute 50, Tonganoxie 49
Fifth place — De Soto 44, Eudora 37
Seventh place — Jeff West 53, Atchison 36
Boys
Third place — Eudora 35, De Soto 31
Fifth place — Lansing 55, Jeff West 39
Seventh place — Atchison 78, Don Bosco 54