Chieftains' lead, title hopes evaporate in 2nd half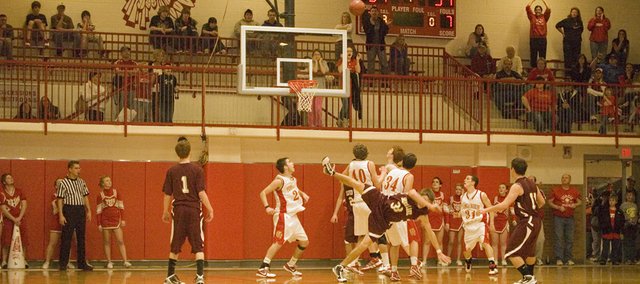 Photo Gallery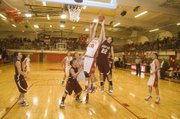 Chieftains fall in OT of title game
The Tonganoxie High boys basketball team lost in overtime, 46-43, to Silver Lake in the 2010 Tonganoxie Invitational championship game.
For 16 minutes, the Tonganoxie High boys basketball team looked like a champion against Silver Lake on Saturday.
The program's first Tonganoxie Invitational title since 1994 seemed just minutes away.
Then came the second half.
Points became a rare commodity for THS and before the Chieftains knew what hit them, the Eagles won 46-43 in overtime.
Tonganoxie's 13-point halftime lead began to dwindle in the third quarter.
All was well when senior THS forward Keaton Schaffer scored inside with 5:03 left in the third, then scored in transition 23 seconds later.
But after that, a Dane Erickson free throw midway through the third period and an Austin Vickers three-pointer with 6:17 to go in the fourth were the only points Tonganoxie could muster in regulation.
The Chieftains went 3-for-12 in the second half, scoring five points in the third quarter and three in the fourth.
Junior point guard Jeremy Carlisle said Tonganoxie (5-5) was guilty of thinking a double-digit lead at the break meant the game was over.
"We started coasting. We didn't run any of our stuff," Carlisle said. "We were trying to come out and make everything easy when nothing was gonna be easy, nothing was gonna be given to us."
THS coach Shawn Phillips and his staff tried to warn the team its halftime lead didn't mean much.
"I think we may have felt a little overconfident coming out after half," Phillips said. "We told them the first four minutes were going to be huge because if we can push a 13-point lead out to a 17- or 18-point lead, the game's pretty well over."
Instead, the Eagles (6-4) opened the third with a 7-0 run that acted as a shot in the arm for Silver Lake.
"Once they started a comeback, we quit attacking," Schaffer said. "We played not to lose instead of playing to win."
Meanwhile, the momentum completely shifted.
"We just didn't execute anything that we had planned and they executed a lot of their stuff," Carlisle said.
Despite the Chieftains' inability to match their first-half production (they went 11-for-21 from the field and 6-for-6 at the free-throw line in building a 31-18 lead), Silver Lake could not catch them on the scoreboard until Eagles senior guard Cody Johnson — named the tournament's most inspirational player — tied the game at 39 with 1:10 remaining in regulation.
Neither team could score before the fourth-quarter clock expired. Silver Lake's Keenan Kruger put up a difficult, fade-away shot over Vickers before the buzzer, but it missed, setting up overtime.
Silver Lake took its first lead of the game in OT, when Jeremy Boyd put back an offensive rebound.
With 53 seconds remaining, THS broke its painful, 9:24 scoreless drought with a Schaffer layup.
The lead went back to SLHS 20 seconds later (when Schaffer was whistled for his fifth foul) with a pair of free throws from Kruger, but Erickson tied the game at 43 with a bucket in the paint with just 19 ticks left in the extra period.
The Eagles held for the final shot but the clock stopped at 1.9 seconds when Vickers was called for a foul and Kruger hit the front end of a one-and-one.
When he missed the second, Tonganoxie chased down the rebound and called a timeout with 1.6 seconds on the clock.
On the following play, it appeared Silver Lake's Casey Smith had broken up the in-bound pass and the game was over, but the officials determined Tonganoxie's Justin Jacobs had fouled Smith as the two collided going for the ball.
Smith sank both free throws to put SLHS up three, but THS still had a chance, albeit a long one.
Carlisle caught the ball in the backcourt, roughly 60 feet from the hoop, and launched a desperation three but it hit part of the gymnasium ceiling, knocking the shot off course and ending the championship contest.
As Silver Lake players and students stormed the floor, the Chieftains realized they had a lot to learn about big, seemingly comfortable leads.
"We've got to go for the kill," said Schaffer, who finished with 17 points and was named tournament MVP.
Added Carlisle: "We just can't come out and coast anymore, even if we are up big at half and pretty much rolling a team."
Phillips said he hoped the disappointment of the title-game loss would hammer home a lesson that shouldn't be forgotten.
"We've got to finish," he said.
The Chieftains played host to De Soto on Tuesday night after The Mirror's deadline. Go to tonganoxiemirror.com for details.
Score by quarters
SLHS 6 12 13 8 7 — 46
THS 12 19 5 3 4 — 43
Tonganoxie scoring
Dane Erickson 3-7 3-4 9, Keaton Schaffer 7-13 2-3 17, Jeremy Carlisle 1-5 0-1 2, Austin Vickers 2-4 2-2 8, Justin Jacobs 1-1 0-0 2, Colby Yates 1-1 0-0 2, Dylan Scates 1-5 0-0 3.