Clutch jumper ends Tonganoxie comeback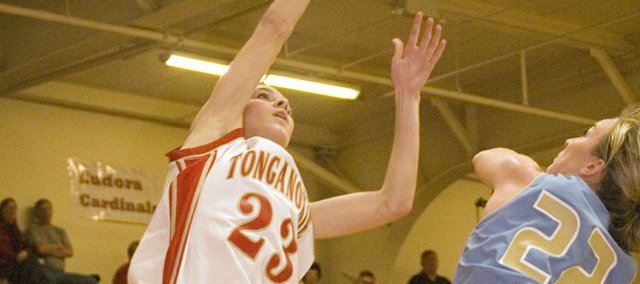 Photo Gallery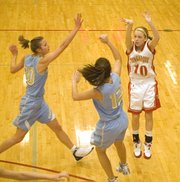 THS girls finish 4th at Tonganoxie Invitational
The Tonganoxie High girls basketball team lost 50-49 to Chanute in the third-place game of the Tonganoxie Invitational on Saturday.
An improbable, thrilling second-half rally by the Tonganoxie High girls basketball team was thwarted Saturday with one feathery flick of the wrist.
Chanute senior forward Ali Aylward calmly stroked a 10-foot, baseline jumper as time expired to erase a shortlived Chieftains lead and give the Blue Comets a 50-49 victory in the Tonganoxie Invitational third-place game.
After climbing back from what was once a 13-point deficit, Tonganoxie emotions ran the gamut in the game's final moments.
What seemed like a comeback victory with 10 seconds remaining, turned into a 1-2 record and fourth-place finish at the team's home invitational.
"I was just beat," said THS freshman Jenny Whitledge of her mental state as Aylward's shot went through the net.
It's hard to blame her. Whitledge, who led Tonganoxie with 15 points and 10 rebounds, had just given THS (4-6) its first lead of the game with a layup out of a sideline, in-bound play after senior Lauren Hall's backcourt defense forced a Chanute turnover.
The physically capable freshman said her nerves wore on her before she got the ball for the go-ahead score.
"A lot of things were going through my head," Whitledge said, adding she blocked out the bad and focused on getting the shot up and in.
Her mind raced even more as CHS (7-4) got the ball in bounds, beat some backcourt pressure and Aylward prepared to shoot.
"I hope she doesn't make it," Whitledge thought to herself. "I hope she happens to slip up and flick her shot wrong, something like that."
Hopes couldn't alter the true jumper, of course, and THS coach Randy Kraft lamented a stat that couldn't be ignored in the one-point setback: 12 second-half free-throw misses.
The Chieftains couldn't will one in at the line. Not only did they miss their first 12 attempts, but their first free throw came from Hall, who scored 12 points, with 14 seconds to go and they finished 3-for-17 at the charity stripe.
"It was the difference in the game," Kraft said.
Senior Lindsey Fatherley, who scored seven points and grabbed five rebounds as a sub, said the team's free-throw woes came from a lack of calm at the line.
"We were so busy, I think that was a lot of it," said Fatherley, who was voted the tournament's most inspirational player. "It (the gym) had been so dead and then it got so loud. We were just all excited."
The game never would have been exciting if THS hadn't picked up its intensity and defense in the third quarter.
"We gave them easy shots in the first half," Kraft said. "In the second half they were tough."
Indeed, CHS went 5-for-18 in the final 16 minutes, which featured a 12-2 Tonganoxie advantage in the third quarter.
Down 34-21 at halftime, the Chieftains opened up the third on a 7-0 run.
Hannah Kemp hit a cutting Hall for a bucket, Hall later nailed one of her three three-pointers and Whitledge converted on a drive to the hoop.
After two Chanute free throws, THS closed the quarter with five more unanswered points — two from Whitledge, who drove the length of the floor for a basket, and three more from Hall, who buried a three after Kemp picked up an offensive board.
The first three minutes of the fourth quarter, Tonganoxie kept cutting away at its deficit with easy looks: Whitledge got a steal and a lay-in, Fatherley scored inside, Haley Smith hit a shot and Kemp tied the game at 41 with a cut to the paint for a bucket.
Still, the Chieftains found themselves down five with less than four minutes on the clock.
Fatherley scored inside with 3:26 to go and Hall hit her final three with 1:05 remaining to keep THS in the mix.
"Our girls, we were going hard," Fatherley said. "We were doing what we could do."
Kraft was pleased with their efforts.
"I'm just so proud of my kids," the coach said, noting they "didn't come to play" in the first half, but responded late. "They came out and battled in the second half, got themselves back in the game."
Aside from the free-throw atrocities, Kraft said the third and fourth quarters featured some of the team's best execution to date — THS shot 50 percent from the floor while holding CHS to 28 percent.
"We have to take away from it the positive things that we did," Kraft said. "We just have to build on that."
Tonganoxie played host to De Soto on Tuesday after The Mirror's deadline. Go to tonganoxiemirror.com to see how the Chieftains played.
Score by quarters
CHS 18 16 2 14 — 50
THS 9 12 12 16 — 49
Tonganoxie scoring
Andie Jeannin 2-5 0-0 5, Lauren Hall 4-7 1-3 12, Danielle Miller 0-2 0-0 0, Jenny Whitledge 7-11 1-10 15, Hannah Kemp 3-11 0-0 6, Haley Smith 2-6 0-0 4, Lindsey Fatherley 3-3 1-4 7, Tavia Brown 0-1 0-0 0.