DHS

size, shooting too much for Chieftains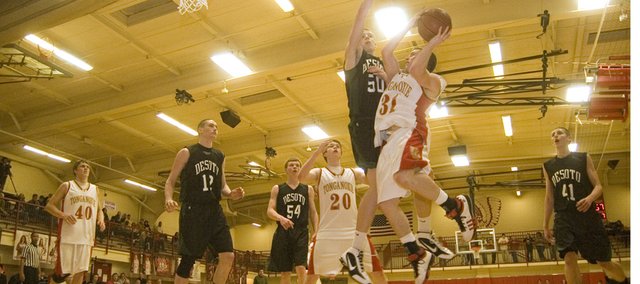 Size? Check.
Outside shooting? Check.
With two crucial facets of basketball covered, the De Soto High boys gave Tonganoxie fits and picked up a 63-57 road win Tuesday night.
The Wildcats (8-5) utilized their size to start the game, pounding the ball inside with bigs Aaron Nutterfield and Daniel Peterson to open on a 14-4 run.
After establishing their presence in the paint, things opened up on the perimeter and De Soto hit nine threes — Brandan Philbrook led the barrage with four from downtown.
Between Nutterfield, Peterson, Philbrook and Joey Johnson, at times DHS had four players on the floor with the size of Tonganoxie's largest post, 6-foot-4 sophomore center Dane Erickson.
All that length added up to a plus-10 rebounding edge for De Soto and 53 points between the four versatile big men.
"If it just becomes a jumping contest," THS coach Shawn Phillips said, "they've got a head start on us and we've got to really work to get a body on somebody and then go get the basketball."
Undaunted, Tonganoxie (5-6) wasn't completely overwhelmed by the Wildcats.
The Chieftains chipped away at an early double-digit hole and went on a 9-0 run capped by a Jeremy Carlisle three that tied the game with 1:01 to go in the half.
Twice in the second half, Tonganoxie took a slim lead — Dylan Scates' three with 1:21 left in the third put THS up 43-42 and a Keaton Schaffer layup in transition in the first minute of the fourth gave the Chieftains a 47-46 advantage.
But De Soto responded to Schaffer's transition bucket with an 11-3 run that put the game out of reach.
Philbrook led De Soto with 18 points.
Schaffer scored 20 for Tonganoxie.
On Friday, De Soto plays host to Baldwin.
On Thursday, THS has a home date with Bishop Ward.
Score by quarters
DHS 19 11 16 17 — 63
THS 14 13 16 14 — 57
De Soto scoring
Daniel Peterson 3 0-2 6, Aaron Nutterfield 6 0-0 12, Joey Johnson 7 0-0 17, Brandan Philbrook 7 0-0 18, Dylan Burford 1 0-0 3, Kyle McCulloch 2 0-0 5, Paul Stallbaumer 0 2-2 2.
Tonganoxie scoring
Dane Erickson 2 8-10 12, Keaton Schaffer 10 0-2 20, Jeremy Carlisle 3 2-2 10, Austin Vickers 1 0-0 3, Justin Jacobs 3 0-0 6, Dylan Scates 2 0-0 6.