Shorthanded, Tonganoxie still improving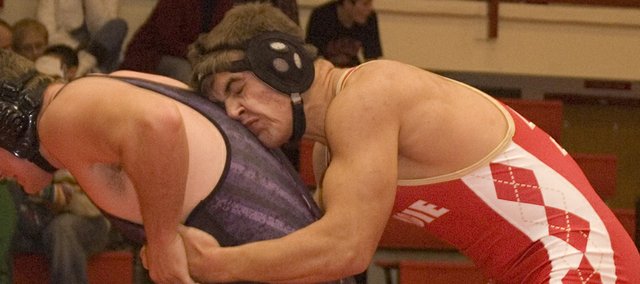 Without four of its 12 regular starters, the Tonganoxie High wrestling team turned out one of its best performances of the season on Saturday at Holton.
The Chieftains had no one competing in four of 14 weight classes and still finished 11th at the 17-team tournament.
THS coach Jeremy Goebel said things are looking up for the squad.
"I saw a lot of improvement," the coach said.
Although the Chieftains went 12-19 in their matches, they didn't have Caleb Himpel (125 pounds), Justin Soetaert (119), Justin Crotty (140) or Patrick Rachford (145) in the lineup. Himpel was out with an injury, Soetaert and Rachford were at state debate and Crotty was held out for disciplinary reasons.
Meanwhile, Tonganoxie still had four wrestlers place. Jeremie Maus (171) went 3-1 and placed second, Jonas Myers (215) finished 3-1 for third, Tyler Hand (130) was 3-2 and took sixth and Britton Price (135) went 2-3 and placed sixth.
Goebel expects Myers (10-8) to have some momentum for the rest of the year after his finish.
"We've just got to work on pulling the trigger offensively," Goebel said. "I was telling Jonas he could probably wrestle with anyone in a one-point match because he's so defensive. We've got to find a way to open up to win those matches."
Momentum should be on Hand's side, too, the coach said, noting his performance was a stepping stone because now Hand has more confidence and knows what he is capable of on the mat.
Freshman Thomas Miller (160) also picked up a victory at Holton.
"Overall, I'm pleased with the kids' effort," Goebel said.
Now that THS has something positive on which to build, this Saturday at the Baldwin Invitational will be even more important, Goebel said, because a number of teams competing there are in Tonganoxie's Class 4A regional (in De Soto, Feb. 19 and 20).
Baldwin, Spring Hill, Eudora, Paola and Santa Fe Trail will all be competing this weekend and at the regional. Goebel said that makes this Saturday's event important for seeding purposes down the road.
"We need to wrestle tough against these regional opponents because it can help us out," he explained.
Aside from Maus' steady grappling — the senior leads THS with a 23-4 record and was ranked No. 4 in Class 4A in the Kansas Wrestling Coaches Association's Jan. 20 rankings — results have been mixed for Tonganoxie thus far this season. But Goebel doesn't want the Chieftains to get discouraged. He thinks the team is getting tougher.
"It's coming," he said. "You can see it every day."
Besides, medals and rankings mean little if wrestlers don't perform at the regional, where state tournament berths are decided.
That's why Goebel keeps telling the wrestlers: "We can win every tournament but if we don't finish strong at regionals, none of that really matters. This is all preparation for that."
The Baldwin Invitational begins at 9 a.m. Saturday.
Holton tournament
Team standings: 1. Shawnee Heights, 218.5; 2. Andover Central, 216.5; 3. Pratt, 168.5; 4. Lansing, 158.5; 5. Holton, 155; 6. Baldwin, 139; 7. Wichita Southeast, 90; 8. Osawatomie, 83.5; 9. Perry-Lecompton, 66; 10. Pleasant Ridge, 63; 11. Tonganoxie, 62; 12. St. Marys, 46; 13. Doniphan West, 34; 14. Sabetha, 34; 15. Wichita East, 28; 16. Rock Creek, 17.5; 17. Oskaloosa, 3.
THS results
Weight class — wrestler, record at Holton (season record)
119 — Anthony Baker, 0-2 (6-5)
125 — Jake Spencer, 0-2 (4-7)
130 — Tyler Hand, 3-2, 6th (6-9)
135 — Britton Price, 2-3, 6th (11-11)
152 — Ian McClellan, 0-2 (6-18)
160 — Thomas Miller, 1-2 (4-11)
171 — Jeremie Maus, 3-1 2nd (23-4)
189 — Austen Holloway, 0-2 (7-12)
215 — Jonas Myers, 3-1, 3rd (10-8)
285 — Ty Barton, 0-2 (8-15)