Tiebreaker helps
THS

bring home another title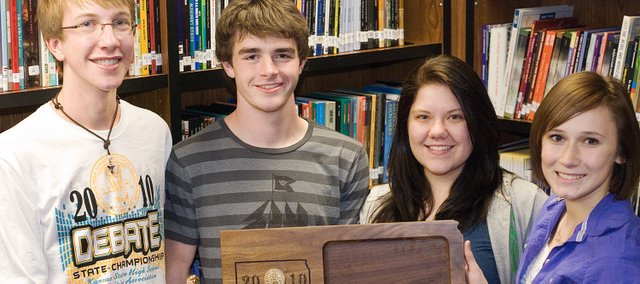 Tonganoxie High School debate coach Steve Harrell knew the final results of his four-speaker debate squad's efforts at the state debate championships Saturday in Goddard. But he and assistant Drew Thomas weren't telling.
The suspense was tough to handle for team members. As the awards were presented, THS debate members heard one school after another.
Haven was announced as the third-place team.
Then Fort Scott was named the runner-up.
At that point, the THS squad knew which team was next. The THS debate program continued its streak of annually winning a state title with Saturday's first-place finish. Team members of the four-speaker squad were Emily Jefferies, Nic Irick, Austin Baragary and Alex Bartels, and alternates Maggie Derzinski and Ashley Kotowske.
"We didn't talk to them about it," Harrell said. "When you get to a certain place, I think it's important for the kids to have that moment of excitement at the assembly.
"And telling them ahead of time I think would have spoiled that."
Harrell said the four-speaker team had been hovering around second place much of the day. In one of the last rounds, Fort Scott lost and both teams ended with 10-4 records.
The tie-breaker was judge's ballots. Tonganoxie had 32 ballots of a possible 42. In the course of a tournament, there are 14 debates and each judge decides independently in a ballot which team wins.
"We were surprised because we were in second the entire tournament," Irick said. "We expected to get second place in the tourney.
"We were really confident we were going to do very well. We all had put in a tremendous amount of work to ensure that we would be successful."
To reach the eight-team state field, THS had to be one of two teams to advance from regionals. Tonganoxie and Sumner Academy advanced from their regional, as there were four regionals total.
In addition to the four-speaker title, the two-speaker team of sophomores Brady Field and Lindsey Truesdell placed fifth at state. THS had three other two-speaker teams competing also. In two-speaker debates there were more than 60 teams competing.
Harrell said it was an impressive showing for Field and Truesdell. What's more, only one of the two-speaker participants will graduate, which bodes well for the future.
Tonganoxie has won three straight state debate titles. The previous two were in two-speaker debate. It was the first time since 2005 THS claimed a title in four-speaker debate.
THS now has seven four-speaker titles (2010, 2005, 2004, 2003, 2002, 2001 and 1999) and six two-speaker championship victories (2009, 2008, 2003, 2001, 2000 and 1998) on its resume.
Bartels, the lone junior on the team, said teammates were holding hands waiting to learn the four-speaker results.
When all other teams had been called, she and her teammates knew they had won.
"It was pretty much the best feeling ever," she said.
She said she was nervous being the only junior.
"But it was just because I didn't want to disappoint the seniors," she said. "I'm glad we could come through and finish their season the best it could be. They definitely deserve it. They're the hardest working people you could possibly meet."
The four-speaker team's topic for this season was: "The United States federal government should substantially increase social services for persons living in poverty."
Baragary and Irick debated in the affirmative and Jefferies and Bartels on the negative side. Each pair debated other teams. For instance, Tonganoxie's affirmative side would debate another school's negative side and vice versa.
Putting in the time
For all debate team members, long hours become the norm in preparing for two or three weeks for state.
For two weeks straight, Irick said, he would be at school from 8 a.m.- 9 p.m.
And that makes for a life of debate 24-7.
"You set all of your schoolwork aside." Jeffries said about putting the focus squarely on debate. "It's kind of difficult, but being with this squad and the relationships we have together. We're the only ones who understand how it works."
No matter how tired debaters were after preparing nightly for state, they usually had enough energy for a trip to Chipotle or Panera.
Chipotle usually wins out, but even that is debatable.
"I prefer Panera," Baragary said. "Everybody else likes Chipotle and there have been many debates about which one we should go eat at."
As Bartels noted, debate basically takes over one's social life, but she likes everybody on the team and is going to miss the seniors a great deal next year.
"Everyone's tired," she said about debate work. "And then it's like 'hey, let's go to Chipotle.' You leave the debate there."
Credit goes to the coach
Debate team members spoke about late-night food trips, the thrill of winning state and the friendships they've forged, but they also were quick to point out what coach Steve Harrell does for the debate program.
"I have to give all the credit to Mr. Harrell," Jefferies said. "He puts in so much time for us. We really appreciate it. He gives up a lot of time he could be spending with his family for us."
Irick concurred.
"Mr. Harrell really sacrifices to ensure this squad wins state," he said. "He probably spends more time with us than his family. And very few people realize how much work we put in and how much he puts into it."
For senior debaters, Saturday marked their final debates in high school.
Though Irick will debate in college at the University of Wisconsin-Osh Kosh, he was sad to see his high school career end. Jefferies called the final debate bittersweet.
"I have this love and hate relationship with debate," she said. "It's a great activity but it is so stressful. So I was counting down the rounds in my career since mid-December.
"I'm gonna miss it, but it's bittersweet that it's over."