Late Erickson
FG

leads

THS

to victory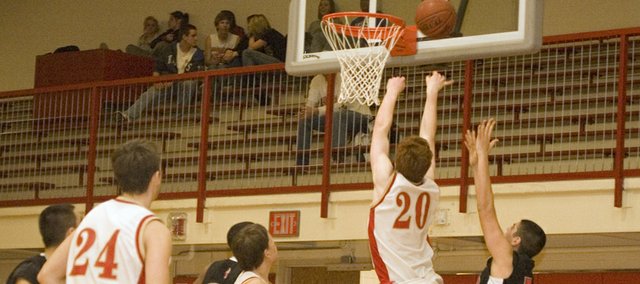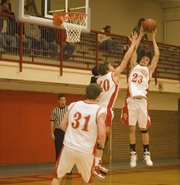 Tonganoxie High sophomore center Dane Erickson scored a basket in the paint with three seconds left and the Chieftains boys basketball team beat Bishop Ward, 53-51, on Thursday night.
Down one with 20 seconds to go, THS ran a few seconds off the clock, then junior point guard Jeremy Carlisle dribbled to the right corner and whipped a pass to Erickson in the paint.
The sophomore pivot gathered himself and released a shot over Ward defenders that took a high bounce off the rim before falling through the net.
Tonganoxie (6-6) needed Erickson's crunch-time bucket in traffic because what was once a 12-point Chieftains advantage late in the first half disappeared and Ward led most of the final four minutes of action.
THS trailed by five with 1:35 to go in the fourth quarter but senior forward Keaton Schaffer hit a jumper with just more than a minute remaining that cut Ward's lead to 51-48 and sparked a 7-0 Tonganoxie run to close the game.
After the Chieftains forced a turnover on defense, Carlisle hit a cutting Erickson with 37 seconds left.
The THS defense then applied some full-court pressure and with 26 seconds remaining and Schaffer stole the ball in the front court while the Cyclones were still scrambling.
After Erickson's clutch shot in the paint gave Tonganoxie a 52-51 lead, Ward threw away the following in-bound pass.
Carlisle got the ball and was fouled. He hit the first of two free throws with 2.5 on the clock and when he missed the second, Schaffer batted the ball away and time expired.
The Chieftains play host to Basehor-Linwood on Tuesday at 7:30 p.m.
Score by quarters
Ward 8 13 13 17 — 51
THS 16 10 9 18 — 53
Tonganoxie scoring
Dane Erickson 9-14 1-1 19, Keaton Schaffer 7-21 2-2 18, Jeremy Carlisle 2-3 4-6 9, Austin Vickers 0-2 0-0 0, Justin Jacobs 2-5 1-2 5, Dylan Scates 1-3 0-0 2.