Leavenworth
BOCC

hears 2nd appeal for Conservation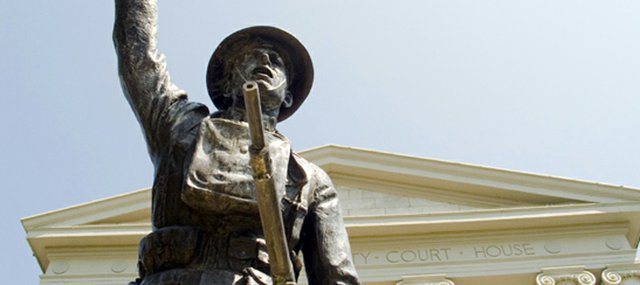 A surrogate made a better case for Leavenworth County Extension Service funding than the agency has thus far provided, a county commissioner observed last Thursday while pointing out the need to fund other vital programs.
Extension representatives requested a second meeting with commissioners after the first face-to-face meeting during the commission's June budget hearing ended with a majority of commissioners supporting proposed cuts and calling for Extension to become more efficient.
County Administrator Heather Morgan recommended the county fund Extension's 2011 budget at $226,287 or $54,000 less than this year.
Scheduling prevented the second meeting. In lieu of another sit down, Extension sent the commission information detailing the benefits of various programs.
But former Extension agent Jo Nell Thomas, who retired in September 2009, did address commissioners Thursday in response to newspaper stories quoting commissioners saying they were unsure what Extension did.
Thomas spoke of the work the agricultural agent did in cooperation with K-State to identify and limit damage to crops from insects and diseases and update local farmers on current research.
Thomas detailed the efforts the family and consumer sciences agent undertook with county residents to improve their nutritional knowledge and habits, home-management skills and physical well being, often in association with the county health department and other agencies.
Thomas also spoke of the value of 4-H and of the success of Extension's master gardner and food programs in encouraging volunteers to share their skills and knowledge with county residents.

"The purpose of Extension is to bring to the people research-based and credible information you can use every day to improve your life," she said.
Thomas did a better job of explaining what Extension did than the agency has done, Commissioner John Flower said. But he added during a tough budget year Extension was competing for funds with programs and agencies that were "saving people's lives."
Commissioners had a second visit Thursday with representatives of the Leavenworth County Conservation District and arranged for a third. That future meeting will follow district representatives working with Morgan to piece together a 2011 budget commissioners find acceptable.
Morgan's current recommendation is that the county not provide any funding for the conservation district for 2011. At their second meeting with the council, district representatives asked the county to provide $35,000 in funding for 2011 with the state adding $23,000.
Two commissioners told the district board members they saw nothing to change their mind about zeroing out the agency after reviewing the district's second budget.
But as they leveled criticism at its proposed budget, commissioners expressed support for the district's mission of preventing soil erosion and contamination from bad septic systems or unplugged wells.
Commissioners questioned how a budget that provided $41,000 in salary and benefits for an administrative office person and $11,216 for a field employee could accomplish that mission.