Running into new territory
THS

cross country team has 1st camp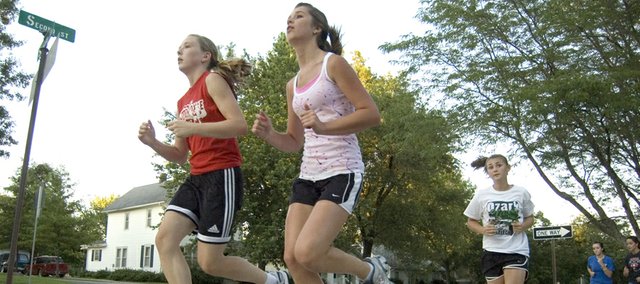 The Tonganoxie High cross country team explored some new territory this summer.
The running routes the Chieftains took throughout town June 28-30 certainly weren't uncharted but they were embarking on something new — the program's first summer camp.
As Cristina Rubio, a veteran of the girls cross country team, put it: "Other sports have camps and everything during the summer, so why shouldn't we?"
THS coach Phil Williams said the team had workouts twice a week in the summer of 2009, but he thought a three-day camp would be a great addition to the program's offseason. He said the camp, which took place for an hour each evening, was designed to get the Chieftains into "running mode," while having a little fun and introducing the team's new members to what they can expect out of a cross country practice.
"We didn't give them a killer workout or anything," Williams said, stressing the camp was intended to "jump-start" summer training before practice begins in late August.
Caleb Himpel, a rising junior, thought the camp was very helpful to incoming freshmen, who needed an introduction to the demands of the high school level. But, Himpel pointed out, summer running and conditioning is nothing new for the team's returning members.
"This is a new thing, our team camp, but normally a lot of us run in the summer and most of us run together," Himpel said.
And Williams made it clear to all the runners that three days of camp and workouts twice a week (which begin this week) alone won't bring about a fruitful fall season.
"As I tell them almost every night, this Tuesday and Thursday thing is not all you have to do," the coach said.
Ideally, he wants them running five times a week, about 4 or 5 miles an outing — "That should give them a huge boost," Williams said.
With the coach serving as "head honcho," as Himpel put it, for the workouts, any other running is left up to the Chieftains. Himpel said he, Dalton Harrington, Patrick Rachford, Keith Slater, Brady Field and other boys runners plan to workout four or five times a week and try to make sure everyone is in attendance. He said they might mix things up for some sessions by playing soccer or football in order to get in some sprints that will compliment their normal long-distance treks. But he said the main objective for the summer was for everyone to be comfortable with a 5K run.
Rubio said it can be tempting to take it easy in the summer, especially with extreme heat, but the returning varsity runners know it is better to put in the work.
"It's hot right now but when school starts we have to practice right after school and it'll be way hotter," she said.
It is advantageous, Rubio added, for the cross country runners to get used to the heat in July because there really are only two options from a conditioning standpoint: "You die now or you die in the season, pretty much," she said.
Williams said such summer work could pay off if the Chieftains remain dedicated to their workouts and he thinks the camp, which 42 attended, was just the way to prepare them.
"This is just a little bit of a motivator, I hope," the coach said.