Sounding the horn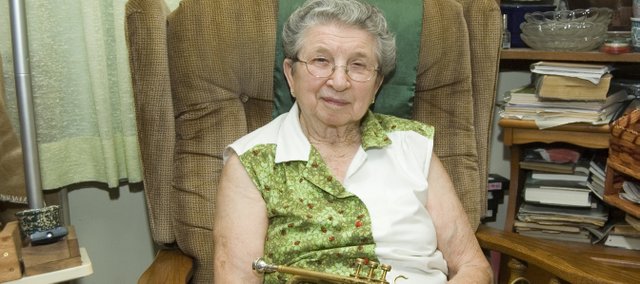 What started as a class she and her sister took in junior high school has blossomed into a decades-long hobby for Virginia Mills.
The rural Tonganoxie resident has played the cornet since 1942, when as a junior high school student in Leavenworth she enrolled in band with her sister.
"I was in the seventh grade when I started in band," Mills said. "One year I had two classes of band, French horn and cornet, every day."
Mills has been a member of the Tonganoxie Community Band the last few years. At the group's annual concert — this year it took place June 29 — director Charles Van Middlesworth took time between songs to recognize Mills for her dedication to the band.
And, to wish her a happy birthday, as Mills turned 80 on June 3.
Mills said she wasn't expecting Van Middlesworth to wish her a happy birthday.
"I love playing for Mr. Van because we want (to do well) for him," Mills said, noting that Van Middlesworth's personality helps bring out the best in the musicians.
The longtime cornet player also received a "faithfulness" gift at the concert from fellow band members Larry and Moya Peterson. It was a table lamp with a three-way cord and was in recognition of her commitment to playing in the community band.
When she received the gift, Mills said she was speechless and that it was unbelievable.
"I don't know how he got that three-way cord through that trumpet, but he did," Mills said.
The rural Tonganoxie resident doesn't just play in the community band.
She also plays her cornet in a church band at Stanwood Friends Church between Tonganoxie and McLouth and composes music for the church band. This past Sunday, her grandson and granddaughter joined her in the band, as her grandson plays the trumpet and her granddaughter the tenor sax and clarinet.
Mills has used the same cornet since she started playing in 1942. It's served her well through the years, even on an occasion in high school when she was riding a horse and playing at the same time. She lost her handle on the cornet and it fell to the ground, but the instrument was repaired.
"I shouldn't have been playing the cornet and riding a horse," Mills said with a laugh.
Virginia moved to the Tonganoxie area from Leavenworth in 1954 after marrying Bob Mills, who died in 1992. She was self-employed as a cattle and Siamese cat raiser and also gave horse riding lessons.
Though she's retired from those occupations, Mills keeps on playing her trusty cornet.
She was quick to point out that the French horns did an "absolutely fabulous" job at the concert, something she told them personally after the concert.
And she said she's as much of a fan of the band as she is playing in the group.
"I do enjoy the band," Mills said. "I think lots of time I go to hear the music as much I do to participate."