Curb-side service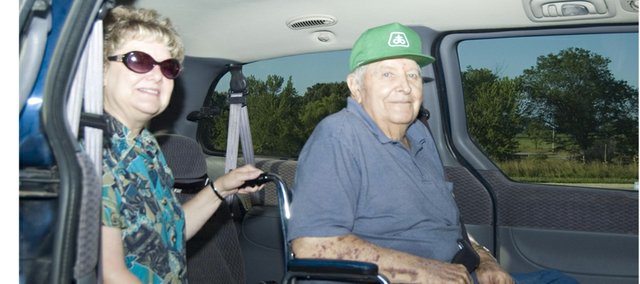 There are two circumstances in Maurice Black's life that make it difficult for him to stay in his home.
The 86-year-old Tonganoxie man has not been able to drive since staph infection developed in his knees after the joints were replaced eight years ago. The condition requires he get weekly antibiotic treatments at a Lawrence clinic.
Fortunately for Black, the Leavenworth County Council on Aging medical transportation program bridges those seeming incompatible realities.
"There is no other choice," he said. "I just couldn't do it if I had to do without."
Every Tuesday morning, a Leavenworth County Council on Aging van picks up Black at his home and takes him to Lawrence for treatment.
Black's rides were among the 1,429 medical transportation trips the Council on Aging provided in 2010 for those county residents 55 years of age or older. Cars or a wheelchair-lift equipped vans pick the passengers up at their homes, transport them to clinics or hospitals and return them to their homes.
Linda Lobb, executive director of the Leavenworth County Council on Aging, said rides were scheduled on a first-come, first-serve basis and reservations are required. Lobb said appointments can be made up to two weeks ahead of the ride date and two-weeks notice was required for out-of-county appointments. In-county rides can be schedule with as little as one days notice, she said.
Lobb said the medical transportation program, like other agency services, was provided with the goal of keeping seniors living in their homes or apartments as long as possible.
The medical transportation program receives county, state and federal funding and is also supported through local donations and user fees of $20 for a round trip or $10 one way, Lobb said.

The Council on Aging will make another senior transportation service available soon. Lobb said starting in August the agency will offer for $7 a once-a-month shopping trip to Lawrence and back on the second Wednesday of each month.
"In the past, we have had people say they would like for us to offer that service," she said. "This will be the first chance to see if the seniors in the community do in fact want shopping on a monthly basis.
"We would have to have a minimum of five. It's first come, first serve for spots on the bus."
Depending on demand, a nine- or 13-passenger van will pick seniors up at their homes before leaving for Lawrence. Lobb said the van would probably leave Tonganoxie in mid-morning, but times had not yet been worked out.
The Council on Aging will advertise in advance the stores the van will stop at each month, Lobb said.
To learn more about the medical transportation or new shopping trips, call the Council on Aging at (913) 684-0808 and ask for Linda Karpierz.