Superintendent not anticipating tax increase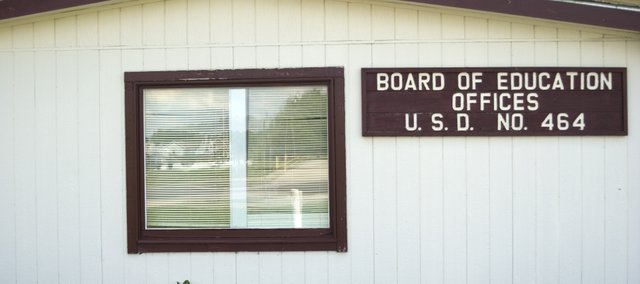 Superintendent Kyle Hayden is anticipating no tax increases as he prepares the upcoming year's budget.
Hayden told the school board at Monday's meeting that the district closed its budget "in really good fashion this year in the face of a pretty significant economic crisis."
He said decisions were made to reduce expenditures and build more stability through a conservative approach during the last eight months to combat reductions in state funding.
"We're looking at no tax increase for the next fiscal year," Hayden said. "I think the public will be pleased with that."
He also commended the board for making tough decisions.
The district's assessed valuation has remained steady for the third consecutive year. Hayden said budget transfers increased by nearly $859,000, or 27.5 percent, thanks to solid end-of-year cash balances. The district will carry over $1,694, 557, which Hayden said would assist the school district with additional reserve funds for contingency, capital outlay and student resource funds.
Hayden will present the proposed budget at a special meeting, which board members set for 6 p.m. Monday, Aug. 2 at the Tonganoxie High School library, on the school's west campus.
Insurance savings
USD 464 will be saving nearly $35,000 by switching companies for property and casualty insurance.
The board approved insurance through WRM America for $161,221. Renewal with America First Insurance would have cost $196,040. The expiring contract with American First is for $187,881.
WRM America is new to Kansas, but Monte Giddings, the district's insurance broker, said the company is endorsed by the Kansas Association of School Boards.
Board member Kathy Baragary asked Giddings whether he was confident in the company, to which he responded that he wouldn't represent a company in which he wasn't confident.
"You would look at me like I shouldn't belong here and I probably wouldn't," he said.
Asphalt work planned at Tonganoxie Middle School
Discussion about poor conditions of asphalt at TMS continued Monday from the previous month's meeting and the district plans to move forward in full repair of the asphalt, which is most problematic north of the middle school. Superintendent Kyle Hayden said the asphalt was put down roughly three years ago and only has had two full school years of traffic. The district will be seeking bids for asphalt work, which likely wouldn't be completed before the start of the school year.
Additional supplemental contracts approved
Several supplemental contracts were approved at the middle and high schools for the 2010-11 school year.
The hirings were approved, 6-1, with board member Kathy Baragary casting the lone dissenting vote.
At the high school these supplemental contracts were approved: Randy Kraft, assistant football; Jared Jackson, head golf; Doug Sandburg and David Walker, assistant golf coaches; Alan Kroll, assistant boys soccer; Lee Matzeder, head softball; Susan Kuzmic, assistant softball; Phil Williams, head boys track; Chris Weller, head girls track; and Matt Bond, Steve Hughes, Bill Shaw and Brandon Ruud, assistant track.
An assistant girls basketball position, as well as assistant girls soccer, head baseball, two assistant baseball and an assistant softball position have yet to be filled.
For middle school activities, these positions were approved at Monday's meeting: Mike Bush, science club; Kyle Stadalman, assistant seventh-grade boys basketball; Shelly Hunter, assistant girls basketball; Rachel Padfield, assistant seventh-grade volleyball; and Debie Garner, assistant eighth-grade volleyball. An assistant eighth-grade boys basketball position, as well as an assistant eighth-grade girls basketball position, still are to be filled.
staff members hired
The school board approved hires for the upcoming school year. Michael Allen will teach eighth-grade technology studies and Amber York will teach eighth-grade science. Allen has 12 years teaching experience, while York has nine. Also, Cherie Williams, who works as a bus driver, also was hired as a THS west campus part-time food service employee.
Resignations approved
The board approved resignations from Chris Reynolds, Scott Underwood and John Tollefson, by a 7-0 vote.
Reynolds was Tonganoxie Middle School technology teacher, while Underwood was TMS and THS assistant wrestling coach and Tollefson was science olympiad coach. Tollefson also is a THS science teacher who coaches middle school track and cross country.
Truesdell, Grinter named to school board posts
The school board named Diane Truesdell and Kris Grinter as president and vice president respectively for the 2010-11 school year.
Truesdell was vice president for 2009-10, while Kay Smith was president.