5 questions: Beat the heat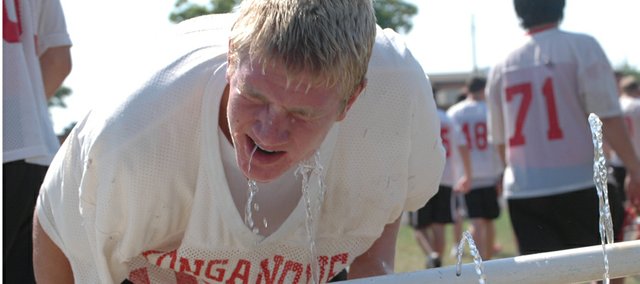 With summer officially here, temperatures in the 90s and the heat index into the 100 range, the National Red Cross warns people of dangers of heat and how to beat it.
Q. Who is at greatest risk when temperatures become unbearable?
A. Everyone is at risk when temperatures get above the 90-degree zone, but the most susceptible are the elderly and the very young. Signs to look for with heat-related illnesses are nausea, dizziness, flushed or pale skin, heavy sweating and headaches.
Q. How common are serious cases of heat-related illnesses?
A. The Centers for Disease Control and Prevention say approximately 400 Americans die because of sweltering heat each year. The National Weather Service reports that excessive heat is the top weather-related killer, with more people dying from it each year than tornadoes, hurricanes, floods, lightning, winter storms and extreme cold from 1994 to 2003.
Q. If someone is experiencing signs of heat-related illness, what should be done?
A. First, move the person to a cool place. Give cool water to drink and apply ice packs or cool wet cloths to the skin. If a victim refuses water, vomits or loses consciousness, call 911 or other emergency number immediately.
Q. What are some tips on beating the heat when outside?
A. Wear lightweight and light-colored clothes. It's also a good idea to wear a hat or use an umbrella. Always have water or juice with you and drink continuously even if you don't feel thirsty. Avoid alcohol and caffeine, which dehydrate the body. Also, eat small meals and eat more often.
Q. What other advice is there for staying safe from the heat?
A. If you must do strenuous activity, do it as early in the day as possible, preferably before 7 a.m. Stay indoors when possible. If air conditioning isn't available, stay on the lowest floor out of the sunshine. Remember that electric fans circulate the air, but they do not cool. Everyone should check on their elderly neighbors and those who don't have air conditioning during heat waves.