Photo Gallery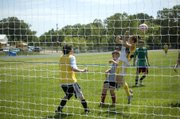 New Tonganoxie High boys head soccer coach Brian Kroll had a camp for boys and girls this week at THS.
Neither social networks nor school dances could match the power of a ball and a field this past week. All it took was a five-day, on-the-pitch mixer in the form of camp for some Tonganoxie High soccer players to get better acquainted.
Even though the boys play in the fall and the girls go at it in the spring, members of the THS soccer teams certainly aren't strangers. They all know each other and it's fairly common to see Chieftains from one team checking out the other squad's matches.
However, players from both teams got a lot more familiar with each other at THS soccer camp this past week, when they all went through drills, games and scrimmages together under the guidance of boys coach Brian Kroll.
When the camp began on July 12, it looked like cliques might be the norm for the week.
"The first day, it started and all the girls went to one side and the boys went over here (to the other side)," Kroll said.
But as they began playing and interacting, that separation vanished in a hurry.
By halftime of the first scrimmage, THS boys such as Matt Briggs, Matt Saathoff, Evan Lott and Connor Kietzmann were relaxing and joking with the girls side, which included Molly Welsh, Chris Tiner, Kelsi Briggs and others — "I saw a ton of growth with all of them," the coach said.
The boys and girls, Keaton Truesdell added, just had to get used to something that felt a little new. As the week went on, the unfamiliarity wore off.
"People started bonding more together and playing with each other — it kind of started flowing better because everyone knew what each other was doing," Truesdell said.
Bartels barking orders
One aspect the boys had to adjust to was the leadership of girls goalkeeper Alex Bartels. On the first day of camp, Bartels said, she was hesitant to step out as a vocal leader because the camp was being directed by Kroll, not her head coach, Justin Seever. She thought she needed to take a back seat to the boys but because the team's two seniors, Jake Willis and Quinten Olson, were unable to be there, Bartels realized she and fellow girls seniors Carson Simmons and Ashley Kotowske needed to fill the void.
"A senior's a senior," she said. "It's camp, it's not season. It's not boys or girls."
With that realization, Bartels quickly became the most vocal player on the pitch, often barking out defensive assignments during scrimmages and making sure no one slacked off in down times.
"It was kind of like everyone was just waiting for someone to step up," she said.
Kroll was impressed with Kotowske's efforts throughout the camp, as she led by example. Bartels and Simmons took on the rest of the leadership load.
"Carson and I were captains last year, so it was really just picking up where we left off," Bartels said. "Somebody's got to do it … why not us?"
With Bartels shouting out instructions and taking control, the boys, Truesdell said, learned they better respond to her commands — or else.
"She's pretty nagging if you don't do it," he said. "She keeps going at you, so you have to do it eventually."
Bartels said yelling at guys was no different than yelling at girls and because they had practiced together this summer, she had no reservations about keeping the boys in line.
"It probably bothers some of them but there's a lot of mutual respect," she said.
Camp awards
The camp, which lasted three hours each morning for five straight days, concluded on Friday with Kroll handing out awards for the week.
He prefaced the presentation by letting the senior girls know they weren't in the running for the honors because he expected them to perform at a high level and the awards would go to freshman through junior players exclusively.
The boys coach said one of the highlights of the camp was that no one shined over everybody else, which made it difficult to choose the honorees for Standout Girl, Standout Boy and Overall Camp Stud. But the standout awards went to Welsh and Zach Tallent before Kroll made a drum-roll sound effect and announced girls freshman Taylar Morgan as the camp stud, an award he said went to "a kind of kid you want to coach." Kroll said Morgan earned the award because she was someone who hustled, listened, asked questions, took criticism and spoke out.
"From word go, she was ready," Kroll said.