Leavenworth County Commission approves Tonganoxie revitalization plan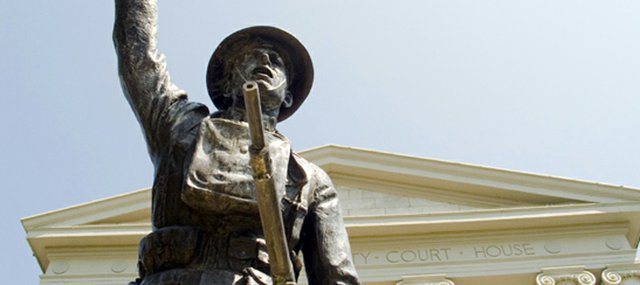 The debate was the same, but the city of Tonganoxie's second attempt in two months to win the Leavenworth County Commission's approval of its revitalization plan had a different outcome.
Commissioners approved the plan Thursday on a vote of 2-1, with Commissioner J.C. Tellefson again voicing displeasure with the city's inclusion of undeveloped property in the revitalization district.
With the vote, the city, county, USD 464 and Tonganoxie Township will offer a property tax rebate on a renovation or new construction equaling 95 percent of a project's taxable value the first three years after completion and 50 percent the fourth and fifth years. To qualify, improvement projects must be of at least $5,000. New construction projects would have to be more than $100,000.
Tellefson said Tonganoxie's plan had the same flaw as those of the cities of Basehor and Lansing. They all included tracts of undeveloped land rather than limiting rebates to older neighborhoods.
Tellefson proposed the commission approve Tonganoxie's plan through 2012. His goal was to get all county cities' plan to expire at the same time, so that no city would gain a competitive advantage of including undeveloped ground and pressuring other cities to ask for the same.
In making the case of the plan, Tonganoxie City Administrator Mike Yanez said it was designed to give a boost to home and property owners in the city's older sections.
"We have purposely excluded new subdivisions in Tonganoxie, and there are 99 vacant lots in those subdivisions," he said.
There were tracts of land in flood plains, such as along Tonganoxie Creek, but those properties were not likely to be developed because of costs, Yanez said.
Yanez's arguments swayed Commission Clyde Graeber, who voted against the plan in May.
"When a community comes in a basically meets the (state) statue, we have to support them," he said.
Tellefson praised the city of Leavenworth's current plans and Tonganoxie's past revitalization plan. They focused on blighted areas and didn't require the county to make as many rebates as that of the city of Lansing, he said.
"It didn't get crazy," he said. "The Tonganoxie plan was managed very well."
Commissioner John Flower responded that the use of incentives was a good thing.
"If the measure of an incentive is the lack of its use, I think it's a very poor measure," he said.
Flower and County Clerk Janet Klasinski said Lansing's program was spurring business development as the county wanted. Klasinski estimated 95 percent of the rebates in Lansing were given to commercial development.
Although Tellefson didn't win any votes, his fellow commission expressed some sympathy for his view. Flower suggested a different approach would be to charter out of the state statute.
After the vote, Flower asked Yanez what the city would do if, after analysis, the county decided to terminate all plans so that they could be rewritten with a different approach.
"Communications makes good government," Yanez answered. "Maybe, we need to evaluate based on facts and figures and not political sentiments.