Spin move: Schaffer does 180, signs with
KWU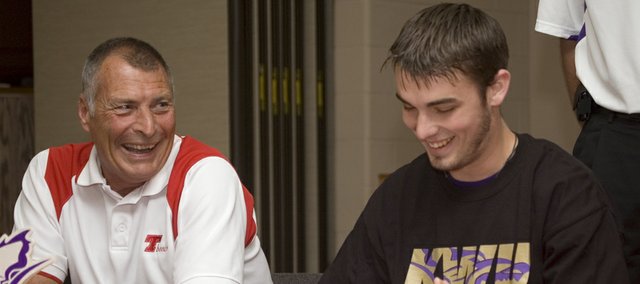 This past spring, Keaton Schaffer was mulling over his college choices, trying to determine the location where he would continue his basketball career.
A Tonganoxie High senior at the time, Schaffer figured he would end up at Ottawa University or nearby University of Saint Mary, in Leavenworth. At the behest of his THS coach, Shawn Phillips, however, Schaffer decided to make a visit to Kansas Wesleyan University in Salina.
"It actually wasn't even in my top three interests at all. I'd never even heard of the place," he recalled.
But it didn't take long to change the forward's thinking on KWU. Wowed by the school's athletics facilities and a successful visit with the basketball program's coach and players, Schaffer committed to the Coyotes and signed with them on May 11.
The two and a half hour drive from Tonganoxie to KWU was worth it, as Schaffer did a 180 — going from disinterested to let's do this.
"I showed up there and I was thinking, 'Man, I don't want to be here. It's just gonna be like all the others.' But it wasn't," Schaffer said. "It was real cool."
While signing with the NAIA institution once seemed far-fetched, the decision became a no-brainer for the Kaw Valley League's 2009-10 leading scorer after seeing Kansas Wesleyan's new facilities.
"I went down there and their gym and weight room just astonished me," Schaffer said. "That definitely put them on top."
It also helped that Schaffer meshed with the Coyotes in a pick-up game and received a familiar pitch from coach Mike Davert. The THS grad said when the KWU coach began selling his program, it sounded like the same things Schaffer heard from Phillips when the coach arrived at THS two years ago.
"Coach Davert is a real cool guy," Schaffer said. "He's young and he knows offense and he basically has the same philosophy as Phillips does."
Schaffer, in fact, has Phillips to thank for his college choice. The Tonganoxie coach's brother-in-law, Rick Dahl, is a big Coyotes supporter, so Phillips was aware of the facilities and the program's overall appeal.
And Phillips is glad Schaffer decided on KWU. He said there was a lot of turnover on the Coyotes' roster from last season, which will give Schaffer a chance to compete for playing time immediately. If successful, he could be a part of the program's core for the next few years.
Schaffer's offensive skills and natural instincts on the floor, Phillips said, give him a shot at earning minutes.
"I have no doubts that Keaton can score at the next level," the THS coach said. "The biggest change will be adjusting to the speed of the game in college. Learning to defend at that level takes time for everyone. Once he figures that out, I think he will become a big part of the Kansas Wesleyan program."
Playing at KWU might not have been Schaffer's dream while growing up — he always wanted to suit up for Kansas University — but now that he is a young adult and aware of how difficult it is to play at the NCAA Division I level, he is amazed at the opportunity that awaits him with the Coyotes.
"NAIA wasn't my initial goal. My goal was KU when I was little," he said. "Just to be a college basketball player is awesome. I love the feeling of it."