Unscheduled success: Chieftains 4th at
MAYB

tourney
Tonganoxie girls go 3-2 in Bonner Springs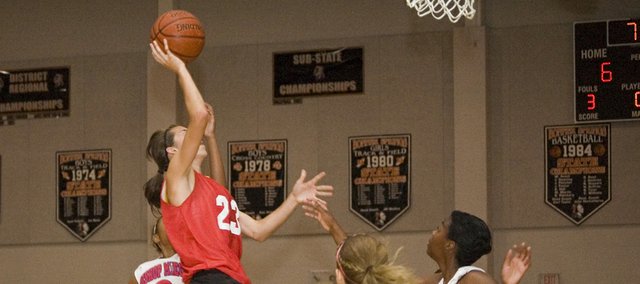 Photo Gallery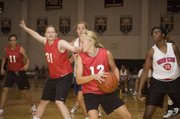 Tonganoxie girls at MAYB
The Tonganoxie High girls basketball team competed in a MAYB tournament in Bonner Springs this weekend.
They weren't planning on playing. They weren't at full strength. Heck, they only had their head coach for one entire game. None of those facts, though, stopped the Tonganoxie High girls basketball team from going 3-2 and taking fourth place at a MAYB tournament in Bonner Springs this past weekend.
The Chieftains didn't have the tourney on their original summer schedule but when organizers needed one more squad, they obliged and it paid off for the young team, which used the unexpected opportunity to advance its court credibility.
Despite having two of its regular rotation players, Danielle Miller and Haley Smith, out of town on vacation, THS was able to pick up wins against teams from Topeka-Hayden, Bishop Miege and a Missouri squad featuring players from Kearney and Lawson. And Tonganoxie did so without coach Randy Kraft most of the weekend as he only was able to coach one full game at the tournament. Family obligations kept the coach absent Friday, but he was on the sideline Saturday morning before he got stuck in snarled Interstate-70 traffic later that evening. Plus, KSHSAA regulations prevent Kansas high school coaches from direct contact with an entire team after July 17, which meant Kraft and assistant Lindsey Graf had to watch Sunday's losses from the bleachers of the Bonner Springs YMCA.
Given the circumstances, Graf said, Tonganoxie considered its MAYB experience a success.
"We wanted to be able to compete and we went 3-2 on the weekend," she said.
After starting the tournament 3-0 and winning their pool, the Chieftains received a first-round bye Sunday before running into a loaded and experienced team from Columbia, Mo., which gave THS its first loss. In the third-place game, Tonganoxie lost by a couple baskets to Bonner Springs, which picked up Basehor-Linwood leading scorer Megan Bergstrom for the tournament.
Even with the setbacks, Graf pointed out, the Chieftains grew. Just by playing in the tournament, Tonganoxie's Tavia Brown, Hannah Kemp, Jo Kissinger, Emily Soetaert, Emma Stilgenbauer, Katelyn Waldeier, Madee Walker and Jenny Whitledge — as well as Amanda Holroyd and Tayler Miles, who couldn't attend all five games — got valuable court time and learned from the experience.
"We're starting to figure out what our style of basketball is and who we are and that's what summer is for," the assistant coach said.
Chance to improve
Kemp authored the most exciting sequence of the weekend for Tonganoxie Saturday night, when, down a point in the final seconds, the lead guard hit a three with four ticks remaining and stole the following in-bounds pass before sealing a four-point win with two free throws. However, she was almost as enthused about that as the progress of the team.
"We've improved so much this summer," she said. "It's really exciting."
The only time THS appeared overmatched was in the first half against the Columbia, Mo., team, which featured juniors, seniors and even a couple college freshmen. The opponent's physical development and confidence bullied Tonganoxie (playing with three high school freshmen, four sophomores, two juniors and a senior) early.
"At first, when we came out we were kind of shocked," Kemp said. "They were a really good team and came out strong and fast and just right at us. We were on our heels and it just threw us for a loop."
But the Chieftains recovered in the second half and played the experienced squad even on the scoreboard. That was just one of many positive notes, Graf said, from the weekend. Along with simply getting some experience for incoming freshmen Stilgenbauer, Waldeier and Soetaert, Tonganoxie saw some much-needed offensive production from a number of sources.
"That's kind of the other nice thing about this summer," Graf said, "is we've got some other people stepping in and putting in five or six points or occasionally more than that."
One of those sources has been shooting guard Holroyd, who has been penetrating more aggressively. Graf said Holroyd has stepped up to spark the team during tough stretches of games.
"She tends to be that kid who shows up when there's kind of a lull," the assistant coach said.
Graf said Kraft wants to have a 10-player rotation, so the Chieftains need a few players to score in small bunches, which is what Walker did Friday night. If everybody can chip in a few points, it makes THS far more difficult to defend.
"We're starting to get contributions from other kids, which is awesome," Graf said.
Kemp said she has been impressed with Miles' play this summer. The senior suited up with the varsity team but didn't play much last year.
"This summer she has came out a whole new person," Kemp said. "It's awesome to see her really growing and getting aggressive."
Perhaps the most promising development at the tournament, Graf said, was the fact that players are buying into Tonganoxie's system. The assistant coach said the Chieftains are beginning to realize: "If I go really hard on both ends of the floor for two or three minutes, I'll get a sub and I'll get back in."
Not too bad for a last-minute addition to the calendar.