Three-vehicle wreck causes delays on
US

24-40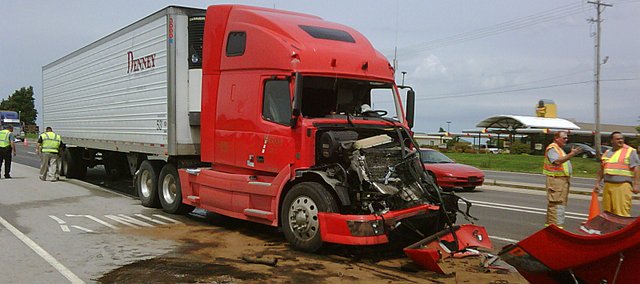 *UPDATE*
Hospital officials from Providence Medical Center in Kansas City, Kan., said Dew was treated and released from the hospital yesterday.
One man was sent to an area hospital after a three-vehicle accident Wednesday at U.S. Highway 24-40 and 155th Street in Basehor.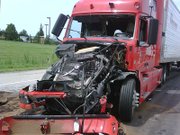 Lloyd Martley, Basehor police chief, said a pickup truck driven by Albert Burke, 55, Tonganoxie, was waiting at the traffic light just before noon in the eastbound lane of U.S. 24-40, which is a four-lane highway at Basehor. Directly behind him in a semi-truck was Ronald Pruett, 54, St. Joseph, Mo.
While the two vehicles were waiting at the light, a semi-truck driven by James Dew, 46, from Colorado, failed to stop for the light and plowed into the back of Pruett's vehicle at approximately 57 mph, which in turn hit Burke's vehicle causing the vehicles to enter the intersection.
Martley said Pruett stated he did not see that the two other vehicles were stopped.
Martley said initially no injuries were reported, but later Dew was taken by EMS to Providence Medical Center after he fainted.
Traffic was reduced to one lane for traffic heading east because of the wreck, and cleanup of the highway lasted into the afternoon.