Holy-Field Winery takes home medals at regional competition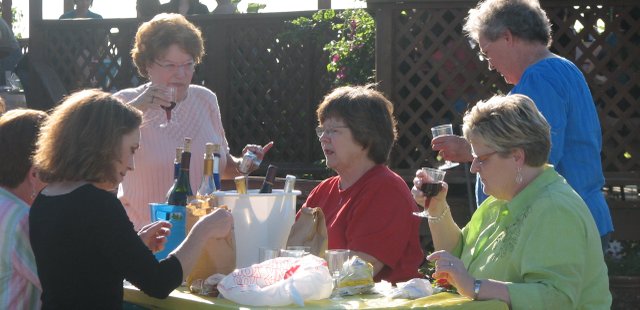 Holy-Field Winery can add a few more awards to its list of honors for the year.
During the fourth annual Mid-American Wine Competition at the Des Moines Area Community College campus, the Basehor winery won three silver medals and six bronze medals going up against 98 Midwestern wineries and 550 vintages.
"I'm always delighted to get awards," Holy-Field owner Michelle Meyer said. "It's a good validation of the quality of wine we produce. It's good to have that recognition."
The wines that took silver were: Chambourcin in the Chambourcin category; Tailgate White in the white blends category; and Yogi Berry Blackberry in the blackberry category. Taking bronze were: Cynthiana in the Cynthiana/Norton category; Racy Red in the any rose category; Seyval in the Seyval Blanc category; St. Francis Port in the port hybrid category; St. Vincent in the other red hybrids category; and Sunset Blush in the any other blush category.
This was the fourth year Holy-Field has entered the competition and Meyers said each year some of their wines win medals. She added Holy-Field earns about 40 medals a year from regional to international wine competitions.
In a press release from the college, chief judge Doug Frost from the Kansas City area was quoted as saying, "the quality of the wines from the Midwest is very impressive. It conclusively demonstrates that the Midwest is making top notch wines."
Meyers couldn't agree more and said it was important for people to recognize their local and regional wineries.
"A lot of people like to eat local, but they forget that they can also enjoy wine locally too." Meyers said. "I think visiting regional wineries is a great way to patronize local people and it's enjoyable. It's fun to go to different wineries and see the way they grow and produce wine."
The wine competition's website notes the contest was open to commercial wineries in North Dakota, South Dakota, Nebraska, Kansas, Minnesota, Iowa, Missouri, Michigan, Ohio, Wisconsin, Illinois, Indiana, Tennessee, Kentucky, Arkansas and Oklahoma.