Chieftains find balance at workouts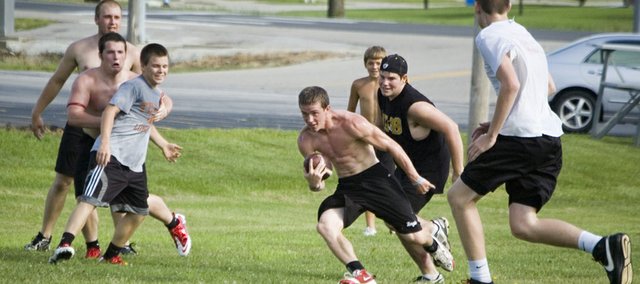 By the time the curtains finally closed on Tonganoxie High's summer football schedule on July 15, the Chieftains had spent a huge chunk of the summer reviewing playbook basics, footwork and just about every fundamental imaginable.
It never hurts to mix things up.
That's why the THS football players, who for six weeks spent Monday, Tuesday and Thursday morning doing 7 a.m. workouts prior to strength and conditioning activities, found a way to "break up the monotony" — as coach Mark Elston put it.
Thursday mornings were a little more laid back for the Chieftains, who followed up work in the weight room by letting loose on the practice field with pick-up games of seven-on-seven. One day each week, the Tonganoxie coaches rolled the ball out for the players and got out of the way. It allowed the Chieftains to have some fun while Elston and his assistants watched from afar, hoping to see the same fundamentals that made other workouts less exciting for the guys on the field.
"The coaches just kind of hang back and see who's giving us effort and who's making strides," Elston said, noting that the free-and-easy games still had some skill to them. "We're looking for guys that we can count on."
Quarterback Jeremy Carlisle, a rising senior, said the relaxed Thursday scrimmages provided a nice break.
"Getting later in the summer, it starts to get repetitive," Carlisle said of the regular workouts. "Guys are getting tired of the same old thing. That's why we tried mixing it up here at the last part."
And the games of seven-on-seven weren't just about messing around and working on a tan.
"For the most part we're getting stuff accomplished," Carlisle said. "We run our own routes and work on that. If you're a receiver, you're supposed to work on your stance and how you take off."
The quarterback said the games also let him see who could make plays once they got the football in their hands, adding freshmen sometimes provided surprises and more experienced players didn't always live up to expectations.
"It's good to find out who can do what and who you can rely on," Carlisle said.
Of course, a lot of the skills that are on display are a direct result of the less entertaining, fundamentally-loaded workouts. And the Chieftains know as much. Although pick-up games might be more player-friendly, Lucas Ahart said the players didn't mind the technique-driven work either.
"We know how important this is and it will make us better for the season," he said.
With the beginning of preseason practice not too far away — Aug. 16 — Carlisle said the players will be glad to have the basics out of the way.
"We can go over them real fast and then get to the more complicated stuff that we need to work on the most," he said.
Football team workouts completed on July 15, giving the players some time to take it easy before they start putting their bodies through the rigors once again. Elston said it will be a deserved rest.
"There is a point where they need to get away from things for a week or two and just go be kids and forget about where their right foot goes and where their left foot is supposed to point," he said.
Ahart said the down time will be nice but he already is looking forward to getting back to work.
"Football is about here," he said. "It's definitely gonna be fun. I'm ready for it.