Dog show's best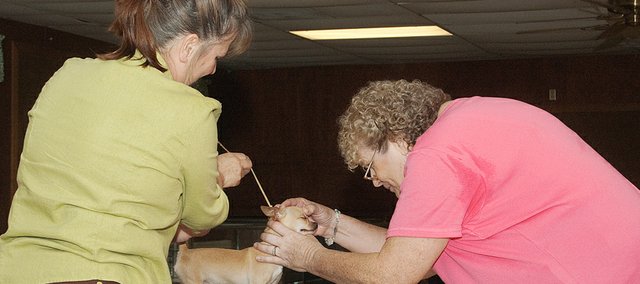 Cindy Werner received a toy fox terrier for her birthday in 1958.
More than 50 years later, Werner continues to raise toy fox terriers. And, that first pet eventually led to her mother helping establish a club that remains in existence today.
Her mother, Daisy Gergick, helped establish the Heartland Toy Fox Terrier Association. And for the past 25 years, the association has had dog shows. Werner said Tonganoxie's shows had been the only specialty shows in the country.
On Saturday and Sunday, the HTFTA again was host to dog shows at the Leavenworth County Fairgrounds.
The two-day event — which anyone can come to watch — had nearly 50 entries vying for various ribbons as people from Kansas, Oklahoma, Iowa, Minnesota and Texas showed dogs during the weekend.
Donna Temple-Burgess of Eagle Lake, Minn., is the event secretary. Her 8-month-old toy fox terrier, Ice Fox Cleo's Gearin' It Up Now, won best in show Sunday at the event.
The judge Sunday was Dianne McConnell, who has been a judge for several years and also is a breeder of toy fox terriers.
"It's an extreme honor for me," Temple-Burgess said of her dog being named best in show by McConnell.
The extended name for Temple-Burgess' dog is its register name. The dog's call name, meanwhile, is Axel.
She said she gets her dogs ready to show when they are puppies, starting them out simply by having them stand on a table like those judges inspect the dogs in between the dogs walking around the show area with their owners.
Another person showing a dog Sunday hasn't been attending shows quite as often. Dakota Morehead is from Sapulpa, Okla., and is 8 years old. He shows dogs with his grandmother, Cecilia Swagger. Dakota just started showing dogs this fall.
"Well, it feels fun," said Dakota, who was decked out in a suit and tie for the event.
Dakota contended that it's not too terribly time consuming getting a dog ready for a show, unless one fails to keep up on brushing the animal.
"It's not really difficult except when they get matted up," Dakota said.
Warner is vice president for the HTFTA shows and chairperson of the club. She credits her mother for her being involved in the organization for so many years. Her mother died a few years ago.
"She's the reason I got into this, because that's what we did together," Warner said.
HTFTA shows normally have taken place in Tonganoxie, but some shows were took place in Emporia and Kansas City. Sunday, Warner reminisced about people in the club being like family through the years, as the group would have pot luck meals during show weekends, as well as raffles. Recently, HTFTA opened up its shows to additional breeds. Other breeds that were showed during the weekend: Chihuahua, Alaskan Klee Kai, Manchester terrier, Japanese Chin, Chinese crested, both hairless and powder puff, rat terrier, smooth fox terrier, Italian greyhound and Papillon.
Warner said it was a decision that needed to be made — numbers were dwindling and the inclusion of other breeds helped keep the club in operation. Of course, Warner remains partial to her toy fox terriers, as evidenced by earrings that displayed tiny replicas of the dogs. Sunday, she was wearing a pair that was