Runners, walkers turn out for charity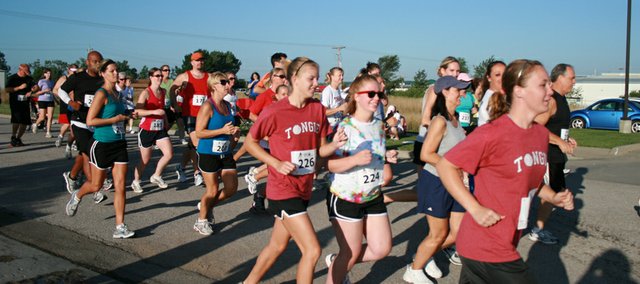 The Small Town Big Cause 5K Run/Walk took place Saturday in which about 100 runners and 30 volunteers participated. Co-chairs for the run/walk were Starla Jones and Mary Jane Grinter of Tonganoxie.
Several runners were honored for their top finishes. Here is that list:
Overall finishers
Matt Goetz, 17:35, in the men's division and Annie Mullican, 23:34, in the women's division.
18 and Under
Male: John Corbet 20:20
Female: Marissa Martin 24:50
19 – 29
Male: John Henderson 26:09
Female: Jill Breuer 31:19
30-39
Male: Justin Smith 20:14
Female: Jeanette Owens 24:29
40-49
Male: Mark Mullican 25:39
Female: Teresa Kempf 28:58
50-59
Male: Sean Williams 23:58
Female: Terry Gaumer 43:48
60 and older
Male: Dale Walker   28:53
Female: Kathy Walker 35:08