Wrestling back in business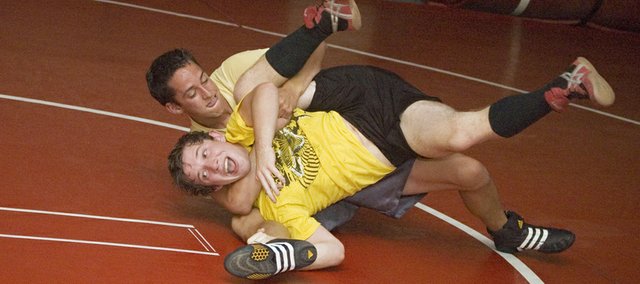 Twice a week — not because they had to, but because they wanted to — a handful of Tonganoxie High wrestlers made sure this summer would be a time to enhance their prep careers.
They did so by sacrificing a couple hours each week to participate in the Chieftains' open room sessions, which were Monday mornings (after THS athletics strength and conditioning) and Tuesday evenings.
The wrestlers began the summer in the less than appealing — for athletics purposes — commons area on the west side of the THS campus while their new wrestling room was under construction. Still, they kept showing up, kept making each other better.
This past week marked the end of the open rooms and it came with a bit of a reward. On July 20, the Chieftains finally got to utilize their new operating space, in the fieldhouse south of Beatty Field. But thanks to the sweat they left behind on the wrestling mats this summer, the guys who dedicated themselves to working out could see bigger rewards when the season begins this winter.
The usual suspects at open room for THS were Gus Dent, Caleb Himpel, Clayton Himpel, Justin Soetaert and Matt Soetaert. Anthony Baker, Asher Huseman, Thomas Miller and Joseph and Seth Wolf also made multiple appearances.
Tonganoxie wrestling coach Jeremy Goebel said the guys who attended on a regular basis were taking advantage of a chance to improve.
"Whenever we had kids show up, I thought they had a good routine in terms of drilling and working on some areas they thought they needed to get a little better at," Goebel said.
Open room differs somewhat from an in-season practice, because the wrestlers are the ones doing the coaching. After they get done competing with each other in the circle, they talk moves and strategies on the sidelines. Goebel said that's important for their development, especially from a leadership standpoint.
"Open room's just like letting them learn from each other," the coach said.
And there were plenty of learning opportunities for the regulars at the sessions. Caleb Himpel, who will be a junior when the new school year begins, said the wrestlers inspire each other, as well.
"I think we're getting better because we're always dogging each other," Himpel said, adding the workouts are often more challenging than a regular practice because the guys are scrapping so hard.
Justin Soetaert, a rising senior, said the Chieftains who were dedicated to summer workouts approached them as if they were in the season. He said the open rooms were tougher than other offseason wrestling activities in which he had participated before.
"We've done it, but not on this level," he said. "It's pretty intense."
According to Goebel, part of what makes the workouts so effective is the wrestlers can push themselves hard but can also better focus on certain things. He said summer is perfect for improving because the wrestlers are a little more relaxed, in the sense that they aren't thinking about the next wrestling meet. They can take an idea and run with it after learning it from one of their peers.
Even though the competitive nature of the wrestlers has them trying to beat the bejesus out of each other on the mat, Caleb Himpel said those who came out for open room were excited about it because they were helping each other out and seeing improvement.
"With four or five guys you get a lot more," Himpel said regarding the sometimes small numbers.
Justin Soetaert said one Chieftain who really benefited from his dedication to the workouts was Dent, who got much stronger and became a better wrestler. Soetaert said those who attended the sessions will be better as a result.
"It is what you make of it," he said. "It's open, so if you get here and you do it, you go hard and you get a lot out of it."
And, Soetaert pointed out, those who didn't make open room a priority will have nobody to blame but themselves.
"There's gonna be kids this year that gripe and complain on the wrestling team about they didn't get enough out of the year, but they weren't here. I think the kids that were here will definitely benefit a lot this wrestling season."