Leavenworth County requests K-7 land-use study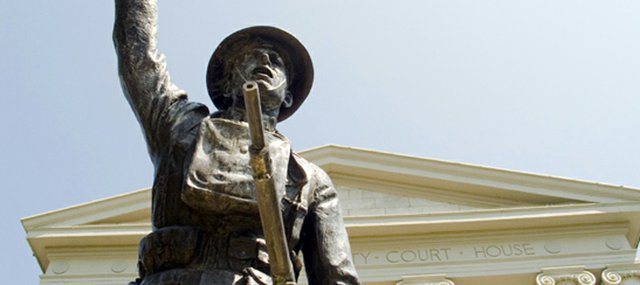 Leavenworth County has asked the Mid America Regional Council to do a land use/economic assessment study of the Kansas Highway 7 corridor in the county.
During discussing the request Thursday, Commissioner John Flower said he learned at a meeting Tuesday that MARC had about $50,000 available for the study.
"We don't have a land-use study for any of the county's highways" Flower said. "Here's an opportunity to have one for one at no cost to the county. I'll put my hat in the ring for that."
A group of Leavenworth and Wyandotte county civic and business leaders have been meeting for some time about the corridor, said Mell Henderson, director of transportation for MARC. They came to the consensus there was a need for more study of land uses and economic development potential along the corridor, but MARC can only act on requests from the local governments it works for, Henderson said.
Tuesday's meeting got the interested parties and local government officials together with MARC and led to Leavenworth County's requests two days later for the MARC study, he said.
The $50,000 mentioned was a "ballpark" figure MARC has in Kansas Department of Transportation controlled federal transportation planning dollars available for the study, Henderson said.
County commissioners agreed to request a study that started at State Avenue north. Just how far north was debated before it was agreed to request "through Leavenworth."
Henderson said MARC would defer to the Lansing and Leavenworth on the northern limit of the study.
The southern limit will apparently be State Avenue apparently because the Bonner Springs representatives at Tuesday's meeting indicated they had no interest in the study.
"They have their own planning and work they have underway," Henderson said. "It didn't sound like they saw the need to do any further work to supplement that."
The study's scope, which would be done by a consultant, has not been determined, Henderson said. But he said it would involve a series of compatibility issues. Those include:
• What businesses or industries were compatible with the corridor and their demand.
• Thee compatibility of one city or jurisdictions development plans with its neighbors.
• The compatibility of land uses along the corridor with its ultimate upgrade to a limited-access freeway.
• The potential for future development in the corridor to help pay for highway upgrades through a transportation development district or other funding measures.
MARC is still waiting to hear from all local governments, Henderson said. It would only be after those requests are made and some "dust settles" that MARC would know the scope of the study, he said.
Among is the open questions is the status of Kansas Highway 5. Realignment and improvement of that road from I-435 to Kansas Highway 7/U.S. Highway 73 in Lansing scored high in MARC's 30-year transportation plan and the county commission is asking the county's four largest cities to support improvement to that part of the highway and its extension to bypass Lansing and Leavenworth the south and west as the top priority for the new 10-year Kansas Transportation Plan.
"We do need a bit of clarity and better sense of what is going to happen there," he said.
The study could start late this year or early need, depending on scope and could take a year to complete, Henderson said.