Citywide cleanup considered 'huge success'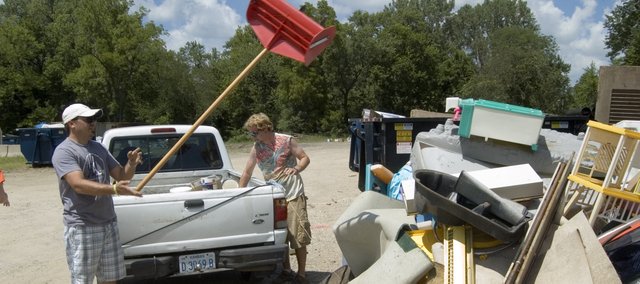 Dennis Bixby made his way Saturday around Tonganoxie, looking for any curbs with mattresses, appliances or other unwanted items.
The Tonganoxie resident wrote down addresses and then reported back to a lot just east of the Tonganoxie City Fire Station where teams were dropping off pile after pile of unwanted items.
The effort was a citywide cleanup in which teams were invited to gather unwanted items.
Bixby had done a similar project while a student at Forth Hays State University roughly 30 years ago.
A Tonganoxie business called Entrepreneurs Attaining Success Together, of which Bixby is a member, took the lead on the community effort, while the Tonganoxie Retail Committee also assisted. Several businesses donated items for the cleanup and food for all the volunteers.
There were four teams participating Saturday in the cleanup, and it was estimated that about 24,000 pounds of salvageable medals were collected, as well as an estimated nine large Dumpsters worth of items filled. Teams also won prizes, which were donated.
"I'd say this is a huge success," Bixby said. "This is exactly what I wanted to happen."
The effort was geared toward cleaning up the town in advance of the Leavenworth County Fair, which starts Aug. 9.
Most of the items collected — such as appliances, TVs, metal and paint, will either be recycled or reused.
Bixby said he hopes the cleanup will become an annual event. And, he'd like to expand what can be dropped off. For instance, he'd like to have a wood shredder available for tree limbs.