Fearless, Whitledge 2nd in state high jump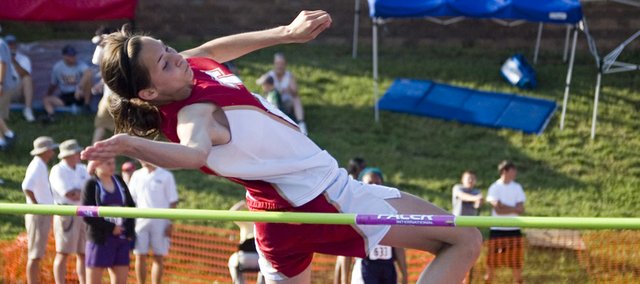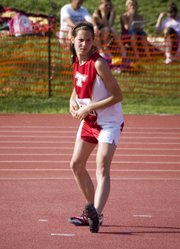 Wichita — There was a time not too long ago when Jenny Whitledge was afraid of the high jump.
That fear was nowhere to be found Saturday morning at Cessna Stadium, though, when the Tonganoxie High freshman tied for second place in Class 4A with a jump of 5 feet, 4 inches.
Whitledge said she was coaxed into the event, now her specialty, as a seventh-grader at Tonganoxie Middle School.
"I was kind of forced into it," she recalled. "I really didn't want to do it but in the middle of track season we were in the gym and they had the mats in there and I was pushed to the pads."
She can thank Haley Smith, now a sophomore at THS, for forcing her into the high jump, and herself for sticking with the event, despite fear of injury.
"I wasn't really comfortable with it because I always thought I was gonna land on the bar and hurt myself," she said, before noting it now feels like second nature.
It took a while Saturday morning for Whitledge to even make contact with the bar that once frightened her. She had a successful first attempt at 4-10, 5-0 and 5-2 before taking two tries at 5-4.
Her performance impressed her coach, Chris Weller.
"Any time you can make 5-4 at state, that's great because you have a lot of people watching you and the pressure is intense. And she handled it really well," the Tonganoxie girls coach said.
Whitledge's personal record in the high jump is 5-5, so when the bar went up to 5-6, she knew it would be tough to clear. None of her three jumps were successful but Weller said two were very close and she just had her hips in the wrong spot.
"I was a little upset but you've got to keep a smile no matter what," Whitledge said after earning a silver medal.
Although she didn't actually receive her state medal Saturday (since she tied Chanute senior Brooke Sharp, it will be sent in the mail), Whitledge kept on smiling after being introduced at the awards stage.
"I'm just ecstatic. There's so many things going through my mind right now," she said. "I just feel bubbly right now. It's really exciting."
The freshman has an exciting future ahead of her, too. Weller said if Whitledge keeps improving her leg strength the next few years, 5-6 or even 5-8 are not out of the question. But the coach was too caught up on Whitledge's Saturday showing to dwell on the future. What did the long-time jumps coach think of the second-place finish?
"For a freshman, outstanding," Weller said.
Not too shabby for a former sufferer of high jump phobia, either.