Jeannin victorious in 800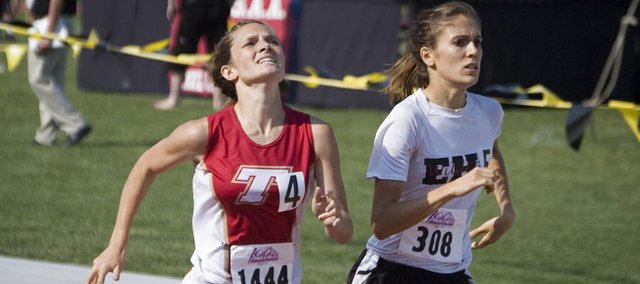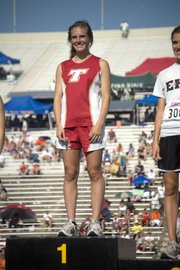 No one named Molly was going to stop Andie Jeannin from doing something special. Not on the very last day of her Tonganoxie High athletics career.
On the final lap of the Class 4A girls 800-meter run Saturday at Cessna Stadium, Jeannin found herself surrounded by Mollys, boxed in by El Dorado's Molly Milbourn and Hesston's Mollie Nebel. But just in time, with roughly 100 meters to go, the Chieftains senior saw the smallest crack between them — just enough space for her to get through.
As she crept up on Milbourn, Jeannin still trailed until the very last instant, when she heaved her chest forward and won a gold medal — by four hundredths of a second — at the KSHSAA State Track and Field Championships.
The last 20 yards or so, Jeannin craned her neck upward as she pushed herself to a school record time of 2:18.58, a few seconds better than her previous best in the race. She continued looking up after crossing the finish line because she had to examine the video board to see for sure who won.
"I had an idea because as we got really close to the finish line, I couldn't see her chest anymore," the senior said of silver medalist Milbourn. "All I could see was mine. I kind of thought I might have won it but I didn't know for sure until I looked up."
It was Jeannin's last time putting on a Tonganoxie uniform. What a way to finish.
"I think I gave it my all because I had nothing to lose," she said. "I went out with a bang."
The THS senior runner entered state as the fourth seed in the race, but she kept hearing from her coaches all week that she had a chance to win it and become a state champion.
With that in mind, the 800 was all Jeannin could think about on Saturday. She and her teammates went to a Wichita mall to kill some time and she was pretty quiet. Someone told her she might need a nap before the race. But she wasn't tired. She was just focusing.
A day after she and her 4x400 relay teammates Abby Eisman, Jenny Whitledge and Cristina Rubio came up short of qualifying for the final in that event, Jeannin was more focused than ever.
"I felt so bad because that's my favorite race and that was my last time to run it," she said of the team's ninth-place finish in the prelims.
Her determination shined when she was boxed in on the second lap of the 800. THS girls coach Chris Weller was impressed by Jeannin's ability to bust out and win.
"I thought she was caught in that pack on the inside and I didn't see a way for her to get out," Weller said. "And she's a fighter, and boy, she broke through there with perfect timing to get out of it."
Jeannin said she got surrounded like that at state as a sophomore and got tripped up. As a senior with savvy, she wasn't going to let it happen again. Still, the gold medal performance exceeded even Jeannin's expectations.
"It turned out better than I thought," she said, with a smile on her face that looked like it might not ever disappear.