Lindsay breaks records in 400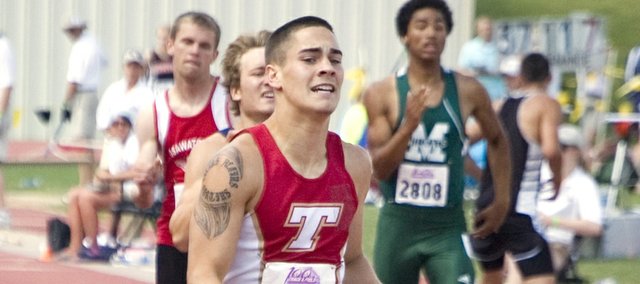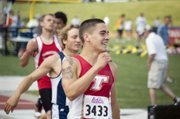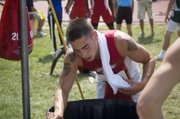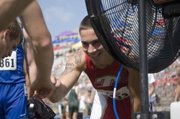 Wichita — When he was a junior on the Tonganoxie High track team, DJ Lindsay routinely turned heads as the anchor of the 2009 Class 4A state championship 4x400 relay team.
But he never competed in the open 400-meter dash. As an individual, the 100- and 200-meter dashes were it for Lindsay. That changed this year. For his senior season, Lindsay ditched the 100 and gave the 400 a shot.
Good decision.
All the thrilling THS senior sprinter did Saturday at the KSHSAA State Track and Field Championships was set a new school record and 4A state meet record with a gold-medal time of 47.98.
Seconds after crossing the finish line, a television reporter at Cessna Stadium wanted to do a live interview with Lindsay and he was so spent he could barely stand up to answer the questions.
He felt like he might get sick, but he kept a smile on his face throughout the interview before making his was to the infield, where he was mobbed by well-wishing teammates as he staggered in the direction of a trash can. Lindsay never made a deposit in the bin but he could tell he had pushed his body to the limit.
"I felt like I gave everything out there, and that's what I wanted to feel like afterward, so I was proud that I did it," Lindsay said. "I saw, if I push myself, what I can do, and I think I proved a lot of things to a lot of people, so I'm pretty happy with that."
He didn't have anything to prove to THS boys coach Phil Williams, who had seen Lindsay run several impressive splits in the 4x400. Williams and Tonganoxie sprints coach Bill Shaw knew Lindsay had a great chance at a state title but the time he posted was something else.
"He's been in the 49s all year, and we thought he could break the school record of 49.1, but the 47.98 was even surprising to us," Williams said.
Lindsay received his first individual gold medal from his aunt, Basehor-Linwood track legend Dawn Steele. The Chieftains senior truly appreciated that but he was hung up on something else.
"The gold medal is cool but having the state record is definitely way cooler," Lindsay said, still giddy about his time.
So where did he find that push to beat the 4A state record by 0.36 seconds and shatter the THS mark by more than 1.1 seconds?
"I don't know," Lindsay admitted. "I was just in a different zone that I've never been into and it was just … I hit the straightaway and all I could think was 'go.' I've said that before but I was just zoning. I didn't care about who was coming up on me."
The only one even close was Wichita-Trinity's Morgan Burns, who finished second at 48.52.
The first-place finish in the 400 was definitely the highlight of Lindsay's state weekend. But he also brought home medals in the 200-meter dash (fourth place) and as a member of the 4x400 relay team (third place).
"I'm really excited right now. I feel like I could cry but I'm just holding it in," Lindsay said after receiving his third state medal Saturday evening. "I can't believe my high school career is over — that's ridiculous."
But Saturday won't mark Lindsay's last appearance at Cessna Stadium. He'll be running there for the Wichita State University track team next year, with the memory of a state title and record driving him.
"I never thought I'd get to there," Lindsay said of his accomplishments, "and I hope it just leads to better things."