Nice holiday weekend: Tonganoxie athletes win state medals in 8 events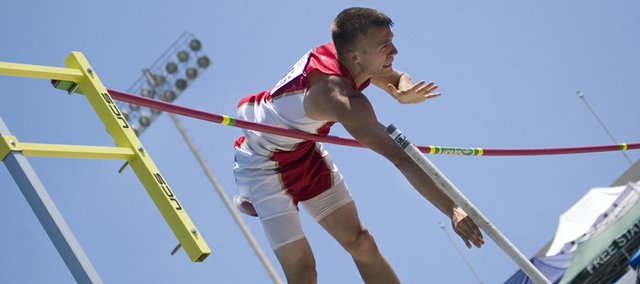 Photo Gallery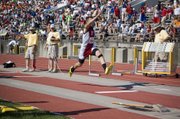 THS track at state — Friday
Tonganoxie High athletes brought home three state medals Friday at Cessna Stadium in Wichita.
Photo Gallery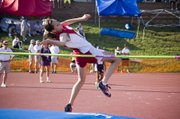 THS track at state — Saturday
Tonganoxie High track athletes won five state medals Saturday at the state track meet in Wichita.
Wichita — When two long days of events finally wrapped up Saturday evening at Cessna Stadium, Tonganoxie High athletes had won two state titles and hauled in eight medals at the KSHSAA State Track and Field Championships.
Andie Jeannin (800 meters) and DJ Lindsay (400-meter dash) won Class 4A gold medals for the Chieftains but plenty of their teammates enjoyed success, too, as the THS boys finished seventh in the team standings with 26.5 points and the girls were 12th with 17 points.
"We were very pleased and excited with the guys' performance," said Tonganoxie boys track coach Phil Williams.
Friday morning, high jumper Dylan Jacobs was the first THS athlete to win a state medal this year. The sophomore tied for sixth place with a jump of 6 feet.
"At state I would've liked to get 6-2 and get my PR (personal record) but I've got two more years," Jacobs said.
The next Tonganoxie medal winner, triple jumper Dylan Scates, also took sixth place. It was the second straight state appearance in the event for the junior, who finished 12th last season. Scates entered the event as the 12th seed, but his jump of 41-11 propelled him up to sixth this year.
"I didn't know how good today would be," Scates said Friday morning, "but it turned out pretty good."
Chieftains junior Jake Willis wasn't as happy with his state medal. Willis was fifth in the pole vault with a mark of 13-6 but since he finished fourth in 2009 with the same mark, he was discouraged.
"I didn't jump like I did at Tongie," Willis said, referring to his school-record mark of 14 feet a week before at the team's regional in Tonganoxie.
Williams said the 4x100 relay team, which missed out on qualifying for the state final by one hundredth of a second, also was down in the dumps.
"The kids were disappointed with a couple of events, but there was a really fine line separating them from reaching their goal," the coach said.
The boys' three Friday medals were duplicated Saturday, when Lindsay won the 400, then finished fourth in the 200-meter dash and teamed with Willis, Bret Koch and Jeremy Carlisle to get third place in the 4x400 relay final.
A year after Koch, Carlisle and Lindsay won 4x400 gold with David Powell, they were a little disappointed with third. But Williams noted the team's time of 3:23.99 was less than a second from last year's state championship performance.
"Even though we were disappointed with the placing, the performance was very good," Williams said.
Girls win 2 medals
Tonganoxie girls coach Chris Weller was pleased with how things went for his team, as well.
Not only did Jeannin earn a state championship, but freshman Jenny Whitledge tied for second in the high jump Saturday morning with a mark of 5-4.
"Any time you can make 5-4 at state, that's great because you have a lot of people watching you and the pressure is intense," Weller said.
Whitledge said she embraced the state meet atmosphere.
"It feels great knowing that everyone's clapping for you and cheering you on," she said.
The THS girls had a couple close calls at state, where the top eight advance from prelims and the top seven medal in finals. Not only did junior Domino Grizzle finish ninth in the shot put but the 4x400 relay team of Jeannin, Whitledge, Abby Eisman and Cristina Rubio was ninth in the prelims, just 0.93 seconds behind the eighth-place time.
"I wish the 4x4 would have been in it," Weller said of the finals, "because I'm pretty sure they would've placed at five or six Saturday but we just didn't run well Friday in the prelim."
The Baldwin girls won the 4A team title and the boys team champion was Paola.
Class 4A State Track
Cessna Stadium, Wichita
Tonganoxie results
Friday
Girls
400-meter dash prelims — 11. Jenny Whitledge, 1:02.11; 12. Cristina Rubio, 1:02.31
4x400 relay prelims — 9. Abby Eisman, Jenny Whitledge, Cristina Rubio, Andie Jeannin, 4:11.50
Shot put — 9. Domino Grizzle, 36-6.25
Boys
High jump — tie-6. Dylan Jacobs, 6-0; 13. Adrian Whittington, 5-8
Triple jump — 6. Dylan Scates, 41-11
4x100 relay prelims — 9. Bret Koch, Jake Willis, Jeremy Carlisle, DJ Lindsay, 44.11
400-meter dash prelims — 1. DJ Lindsay, 49.64
300-meter hurdles prelims — 9. Jeremy Carlisle, 41.83
Pole vault — 5. Jake Willis, 13-6
200-meter dash prelims — 5. DJ Lindsay, 22.40
4x400 relay prelims — 3. Bret Koch, Tyler Woolworth, Jeremy Carlisle, DJ Lindsay, 3:25.16
Saturday
Girls
Discus — 14. Domino Grizzle, 98-11
High jump — tie-2. Jenny Whitledge, 5-4
Pole vault — tie-14. Dannie Oelschlaeger, 8-0; did not place, Abby Eisman
800 meters — 1. Andie Jeannin, 2:18.58
Boys
400-meter dash — 1. DJ Lindsay, 47.98
200-meter dash — 4. DJ Lindsay, 22.27
4x400 relay — 3. Bret Koch, Jake Willis, Jeremy Carlisle, DJ Lindsay, 3:23.99