Scates has 'good day,' earns 6th in state triple jump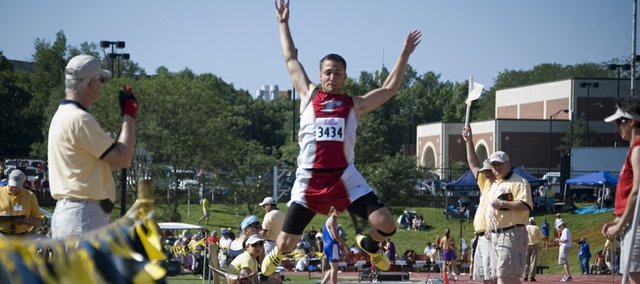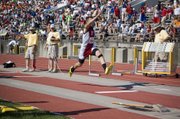 Wichita — After suffering a right hamstring injury in April, Dylan Scates' junior year of jumping hadn't gone exactly as he hoped.
The pain kept the Tonganoxie High junior from competing for a few weeks, and even early in May the injury still hampered his performance.
But Scates didn't want to think about that disappointment Friday morning. He had made it to state in the triple jump and he was determined to keep positive vibes flowing. He kept telling himself, no matter what happens, "Today is a good day."
And it was. Scates' best attempt of 41-11 was 11 inches farther than he had gone since the injury and the distance earned him a sixth-place medal. He said his thought process leading up to the meet at Cessna Stadium was the difference.
"I think for this track meet, I didn't necessarily prepare physically as much as it was mentally," Scates said.
His best triple jump came on his third try. After going 40-11.25 on his first and 41 feet on the second, THS jumps coach Chris Weller, watching nearby from the bleachers, told Scates five more inches would get him in the finals. The jumper eclipsed that by six inches.
"What more can a coach ask?" Weller questioned.
The sixth-place jump, Scates said, was so good he knew it immediately.
"When you pop a big one, you know," he said.
His mark was 2 feet, 4 inches behind Class 4A champ Trevor Miller of Royal Valley, but considering he had struggled to reach his full potential because of the hamstring injury, 41-11 felt important to Scates, who had begun to doubt himself in the weeks leading up to state.
"I didn't know how good today would be, but it turned out pretty good," he said, adding that a state medal had been one of his goals this season after finishing 12th in the triple jump as a sophomore last year.
Now Scates already is looking forward to next year's state meet. His ultimate goal is to win gold in the triple jump as a senior. He knows that will be no easy task since Miller, like him, is a junior.
"I think there's no reason why I can't come back here and make some noise," Scates said. "I've just gotta push myself."