THS

4x400 runners 3rd at state without Woolworth
Alternate Willis steps in at 12th hour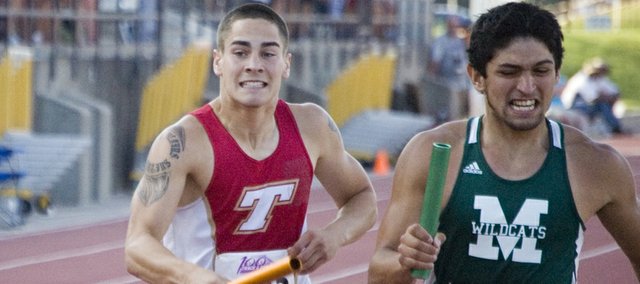 Wichita — Class 4A's defending state champion boys 4x400 relay team looked good Friday in state prelims at Cessna Stadium.
Bret Koch, Tyler Woolworth, Jeremy Carlisle and DJ Lindsay of Tonganoxie High finished second in their heat to Mulvane and ran the race in 3:25.16 — a better time than the other heat's winner, Osawatomie.
Looking forward to a challenge in Saturday's final, the runners faced an unanticipated obstacle Friday night, when Woolworth started having abdominal and chest pain and was taken to a nearby hospital.
Woolworth, who had run in every 4x400 race for Tonganoxie this season except one, was held out of Saturday's final and replaced by alternate Jake Willis. Without its regular second runner, the relay team finished third, behind champion Osawatomie and runner-up Mulvane.
Woolworth said he spent more than three hours Friday night at Wesley Medical Center after being taken there by ambulance. When he started having abdominal spasms, a first for him, Woolworth said he began "freaking out" and had a bit of an anxiety attack, which made it worse.
The problem came on suddenly and Woolworth alerted his relay teammates.
"It was weird," Lindsay recalled. "We were all scared, of course. We were worried about him but immediately we thought, 'What are we going to do?'"
Naturally, Lindsay, Koch and Carlisle had to tell Willis he might be running in the 4x400 final.
"We came up to him last night," Carlisle said Saturday, "and told him he needed to be getting ready because we thought he'd be the guy and he started getting pumped."
He was excited, Carlisle related, because at Tonganoxie's regional each of the last two seasons, Willis has been brought onto the field and told he might run as the alternate. Both times he was let down because he couldn't be a part of the team, so when THS coaches decided to keep Woolworth out, Willis was mentally prepared and came out Saturday ready to compete.
Willis said he didn't feel any pressure stepping in at the 12th hour.
"It's just a team effort, and I'd do that for anybody on our team," he said.
Lindsay complimented Willis for stepping up and his teammates for remaining calm through the adversity.
"I think we handled it pretty good," Lindsay said. "I'm proud of Jake for jumping right in there at the biggest meet, when every leg is fast."
His only regret, Willis said, was that the Chieftains didn't place even higher, despite their third-place time of 3:23.99.
"I wish I could do more for these guys," the junior said. "They're the best group of guys to run with."
Carlisle said the relay team had high expectations after winning the state title last season but credited Osawatomie for its performance after OHS set a new state record by finishing in 3:21.44.
Koch, meanwhile, downplayed the idea of THS being the defending champs because last year David Powell, a 2009 graduate, was part of the group.
"It's a different team this year," Koch said, explaining he didn't think about the pressure of repeating.
The third-place finishers were gracious in defeat but the finish was toughest for Woolworth, who had to watch from the sideline.
"It was just hard," said Woolworth, who called his four teammates "great runners."
And although Woolworth wanted to be a part of the final race, and doctors said he could run Saturday if he felt OK (which he did), the senior accepted the decision of Tonganoxie's coaches — boys coach Phil Williams said they just didn't want to take any chances.
"It was the best choice probably," Woolworth said.