Tonganoxie soph Jacobs 6th in state high jump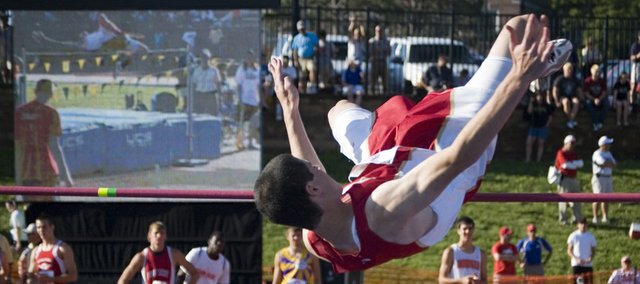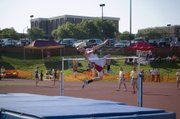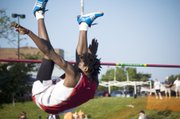 Wichita — Things couldn't have gotten off to a much better start Friday morning for Tonganoxie High sophomore Dylan Jacobs.
He was competing in the Class 4A state high jump at Cessna Stadium with a teammate, junior Adrian Whittington, by his side and he nailed his first two jumps — at 5-10 and 6-0 — clearing them with ease.
"I felt great. I felt awesome," Jacobs said. "I had so much adrenaline. I don't know, maybe it wore off a little too quick."
He added that last part because when the bar was raised to 6-2 — a height Jacobs has yet to reach as a jumper — he was eliminated.
"That's been happening all year," Jacobs said with a chuckle. "At state I would've liked to get 6-2 and get my PR (personal record) but I've got two more years."
Jacobs still got a little something for his mark of 6-0. He received a state medal after tying for sixth place in his first trip to the KSHSAA State Track and Field Championships. Chieftains jumps coach Chris Weller was happy for the sophomore, especially after watching him jump so effectively early in the competition.
"Jacobs stepped up to the plate and made 6 feet on his first attempt and we'd talked all year about doing that," Weller said.
Being in the competition with Whittington — who jumped 5-8 before being eliminated at 5-10 and finishing 13th — Jacobs said, helped a great deal.
"We just motivated each other, back and forth," Jacobs said. "You look out there, there's not another person who had a teammate out there."
When Whittington was knocked out at 5-10, Jacobs said he was "very surprised."
"At regionals, he was just skying over 6 foot," Jacobs said of the week before, when the teammates tied for second place.
It was the first trip to state for both jumpers and Whittington said he learned some important lessons.
"Don't worry about who's watching you," he said of the large crowd. "I learned to take it easy and do what you can do."
Most troubling for Whittington was the way he ended his trip to state. On his third jump at 5-10, his timing was off and when he tried to pull up so he could get another run at it, he made contact with the mat, which made it count as his final attempt, even though he never jumped.
"I just lost my balance right when I got by the mats," he said.
After both THS jumpers were done, they stuck around to watch the rest of the medalists and Fort Scott's Griffen Knopp won at 6-6, while four others posted jumps of 6-4.
Jacobs said they were great jumpers who shared one trait in particular.
"Good form. Wish I had it," he joked.